2014 Dodge Challenger R/T Shaker: More Photos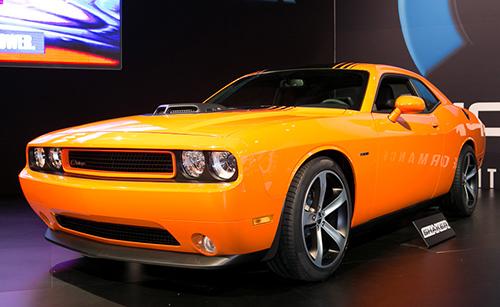 The current-generation Dodge Challenger already takes its nostalgic cues from the 1970 model of the iconic car driven by actor Barry Newman's Kowalski in 1971's classic car flick, "Vanishing Point." But if you're really looking to relive some muscle-car memories on that overnight delivery run from Denver to San Francisco, the new 2014 Dodge Challenger R/T Shaker should do it.
2014 Dodge Challenger R/T Shaker Dials Up Nostalgia
Introduced this week at the 2013 Specialty Equipment Market Association Show in Las Vegas, the 2014's functional engine-mounted Shaker scoop protrudes through the hood and rocks back and forth with the 410 pounds-feet of torque from the 375-horsepower, 5.7-liter V-8, gulping in fresh air for improved performance.
Check out the gallery below; Cars.com photos by Evan Sears.
Related

2014 Dodge Challenger R/T Shaker Dials Up Nostalgia

Research the 2014 Dodge Challenger

More SEMA News on Cars.com