2014 Honda Civic Coupe Gallery: 35 Photos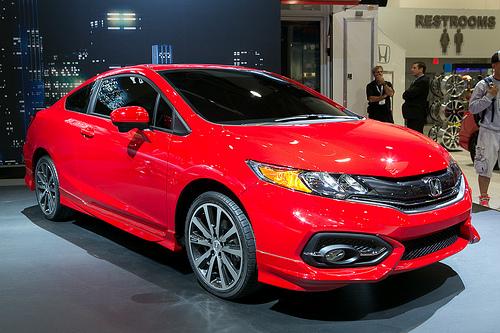 The first images Honda released of its 2014 Honda Civic Si today showed the redesigned coupe adorned with wild exterior graphics resembling a sleeve tattoo you might see covering Marilyn Manson's arm. Now we have a new set of images perhaps more in line with the Civic's pragmatic reputation, featuring varying shots of the car in conventional solid colors. Beyond that, you'll be able to get a better idea of what's changed on the coupe, unveiled this week at the 2013 Specialty Equipment Market Association Show in Las Vegas and set to appear in both coupe and sedan form later this month at the 2013 Los Angeles Auto Show.
Unlike its sedan sibling, the coupe did not receive a thorough update for the 2013 model year. The coupe's exterior refresh includes a revised grille, hood, fenders, headlights and mirrors, as well as darker taillights and reshaped bumpers.
Click here for our First Look and check out the gallery below; Cars.com photos by Evan Sears.
2014 Honda Civic Si Coupe
2014 Honda Civic Coupe HPD
Related

2014 Honda Civic Coupe: First Look
2013 L.A. Auto Show: What to Expect
More Honda Civic News on Cars.com