2014 Nissan Pathfinder: Family Review Checklist
Parenthood necessitates trade-offs in the name of practicality. For example, Manolo Blahnik shoes are not practical on the soccer field sidelines, and a tiny sports car isn't practical with three young children and a husband in tow. For me, a car must be able to fit many and much, offer entry and exit that doesn't elicit complaints and generally make my life easier. It's a tall order, but possible, and one need look no further than the 2014 Nissan Pathfinder to find all of these elements.
The 2014 Pathfinder is a practical three-row crossover that comes at an affordable price, which makes it even more likable. Of course, the trade-off is it isn't glamorous, but neither am I (anymore), and both the Pathfinder and I get the job done.
This seven-seat Pathfinder has the ubiquitous crossover curves. It's powered by a 260-horsepower, 3.5-liter V-6 engine and offers a perfectly acceptable, albeit uninspiring, ride. With all-wheel drive, the Pathfinder gets an EPA-estimated 19/25 mpg city/highway. The Pathfinder Hybrid with all-wheel drive gets a slightly better 25/27 mpg.
I tested the Pathfinder SL trim with all-wheel drive and the all-new SL Tech Package. The package adds a Bose audio system with 13 speakers and a larger 8-inch touch-screen with navigation and voice recognition. Normally, I hear "Tech Package" and assume I'll be cozying up with an owner's manual at night to learn how to operate things. Not so with the Pathfinder. Everything worked intuitively without me having to forego my usual nighttime pleasure reading.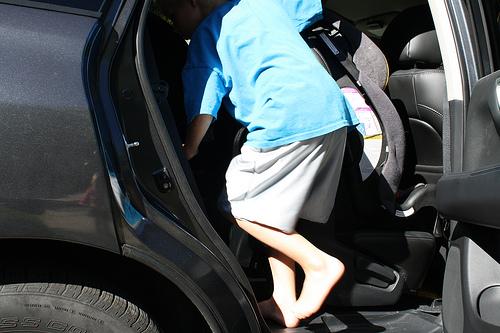 With a little muscle, little ones can climb in and out of the Pathfinder on their own, and if they're tall enough to reach them, the doors are easily opened.
This is not a luxury crossover, but it is related to the Infiniti QX60, formerly called the JX35. The Pathfinder includes the same Latch and Glide system that put the QX60 on the family map. This system lets you to slide the second row forward more than 5 inches — even with a forward-facing child-safety seat installed in the second row — to allow for third-row access. This feature's convenience cannot be overstated.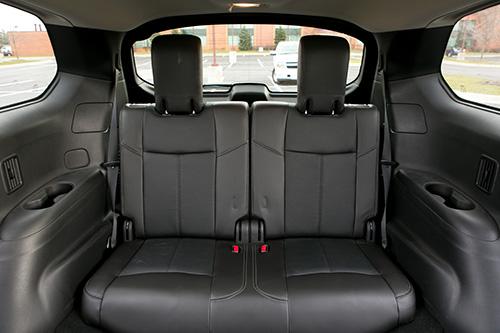 This seven-seat crossover has only two sets of lower Latch anchors in the second row. Accessing the Latch anchors is easy because they stick out from the seat cushions. Both forward- and rear-facing child-safety seats fit well in Cars.com's Car Seat Check.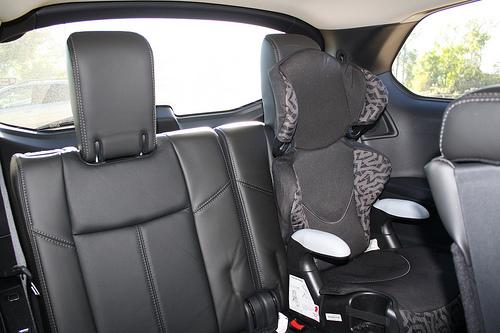 Be warned, however, that the third row is best left to children. It has 30.7 inches of legroom, which is less than its competitors — the Ford Explorer (33.2), Dodge Durango (31.5) and Chevrolet Traverse (33.2). The third row also has unusually tall head restraints that impede rear visibility when in use. They fold when not in use. Thankfully, the Pathfinder SL has a standard backup camera.
Cargo space behind the third row is on the small side at 16.0 cubic feet, but it expands to 79.8 cubic feet with the second and third rows folded. The Explorer (21.0/80.7) and Durango (17.2/84.5) both beat the Pathfinder in cargo-hauling abilities, but the Traverse at 24.4/116.3 puts them all to shame. Thankfully, the Pathfinder has an under-floor compartment in the rear cargo area, a 50/50-split third row and a 60/40-split second row that allow for some creativity when it comes to hauling things.
Hauling beverages in the Pathfinder is another matter entirely. There is no creativity needed. There are 10 cupholders and six in-door bottleholders in this crossover! I loaded it up with so many extra water bottles that I never once heard my children whine about their thirst. See? Practicality at its peak. The Pathfinder is a family workhorse that aims to please and does.
Related
2014 Nissan Pathfinder: What's Changed
2014 Nissan Pathfinder Hybrid: First Drive
More Family News