2015 Jaguar F-Type Coupe at the 2013 L.A. Auto Show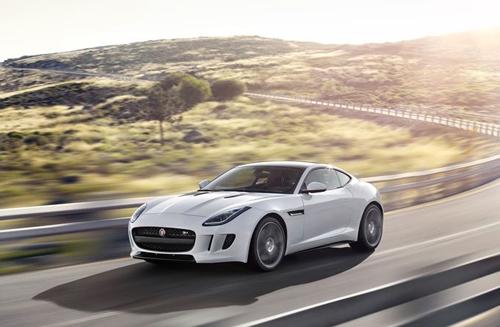 Competes with: Porsche 911, Chevrolet Corvette, Audi RS 5
Looks like: A proper Jaguar coupe with all the right curves
Drivetrain: 340- or 380-hp, supercharged 3.0-liter V-6; 550-hp, supercharged 5.0-liter V-8; eight-speed automatic transmission and rear-wheel drive
Hits dealerships: Spring 2014
The F-Type convertible may have debuted first, but it was merely a tease for the gorgeous F-Type coupe Jaguar revealed this week at the 2013 Los Angeles Auto Show. We couldn't help wonder, nor could our readers, how soon the coupe would debut after the convertible. From our first impressions, it seems like the wait was worth it, though we already had a hunch of what to expect based on Jaguar's C-X16 concept from a few years ago to which the production version stays faithful.
More 2013 Los Angeles Auto Show Coverage
The F-Type convertible already impressed us with its dedicated sports-car athleticism. The coupe takes the F-Type's sports-car commitment to the next level as the automaker says it's the most torsional rigid production Jaguar ever. With all that rigidity, Jaguar deemed it a perfect fit for the F-Type coupe's range-topping F-Type R with 550 horsepower. The R is now the most powerful F-Type, adding 55 horsepower over the convertible's most powerful F-Type V8 S. The F-Type R coupe is good for zero to 60 mph in an estimated 4.0 seconds.
Exterior
To create smooth, uniform coupe body lines without multiple panels or joints, the F-Type coupe's body side is a single pressed piece of aluminum. Look closely and you'll notice the coupe doesn't have any B-pillars that hinder over-the-shoulder visibility on many solid roof cars. Hello, Chevrolet Camaro.
Jaguar's solution to keep it pillar-less involved running a high-strength aluminum-alloy beam from the front of the A-pillar to the rear through the door opening line. The coupe's rear roofline ends at the hidden rear spoiler that automatically rises at 70 mph to reduce lift.
F-Type R coupes have unique aerodynamic front vanes and side sill extensions to increase high-speed stability. R models also feature aluminum window frames and a chrome grille surround with chrome side air vents. Silver 20-inch wheels are standard, and ultra-high performance tires are optional.
Interior
Jaguar says two golf bags can fit in the newly formed trunk space made by the coupe body style. The narrow hatchback is available with power open and close functionality.
F-Type R models feature seats with highly bolstered sides and inflatable side bolstering, and there's generous use of leather on the instrument panel and around the interior. Various leather colors and contrast stitching colors are available.
Under the Hood
Along with the 550-hp F-Type R, coupes are offered in base coupe and S coupe trim levels with 340 hp and 380 hp, respectively. Base coupes are capable of zero to 60 mph in 5.1 seconds, while the more powerful S does the deed in 4.8 seconds.
Now, on to the F-Type R. It features estimated zero-to-60 times in 4 seconds flat, a strengthened aluminum engine block, dual water intercoolers for the supercharger and an adaptive suspension that adjusts damper rates up to 500 times a second. The suspension is stiffer over the F-Type V8 S convertible, and the transmission tuning is recalibrated for the new engine. A second-generation electronic active differential now works with torque vectoring braking system to help turn the car into corners. By applying braking to individual wheels, Jaguar says torque vectoring reduces understeer. The feature is standard on the F-Type R, while lighter carbon ceramic brakes are optional; the carbon ceramic brakes are also now optional on the F-Type S and V8 S convertibles.
Safety
We will update this section as soon as information becomes available.
Click on any image for a larger version.