2015 Jaguar F-Type Coupe Photo Gallery (13 Photos)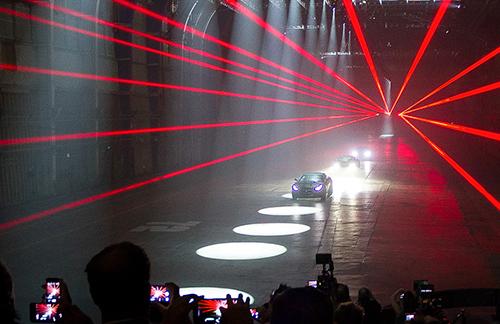 Consistent with its purported Darth Vader-inspired design cues, the debuting 2015 Jaguar F-Type coupe made a red-laser-beam-accented arrival Tuesday night on the eve of the 2013 Los Angeles Auto Show like it was landing at the Death Star. The fervently anticipated coupe version of the rear-wheel-drive luxury performance car — Jaguar's first proper sports car in decades — follows the convertible version introduced for the 2014 model year. But the coupe's topline trim packs a supercharged 5.0-liter V-8 that makes 550 horsepower, an 11 percent increase over the roadster's best effort.
More 2013 Los Angeles Auto Show Coverage
Take note of the smooth, pillar-free body side, courtesy of a single piece of pressed aluminum. Abundant leather with contrast stitching covers the instrument panel and interior, while trunk space has expanded thanks to the new body style. Check out the gallery below. Cars.com photos by Joe Bruzek.