2015 Porsche Macan: Up Close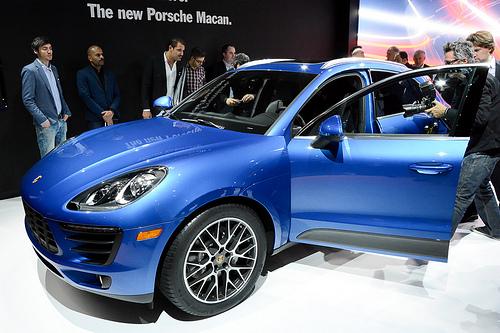 In photos, the 2015 Porsche Macan could be mistaken for its larger Cayenne SUV counterpart at first glance. In person, there's no confusing the bite-sized Macan for anything but a compact SUV. Its small stature is fit and athletic in typical Porsche fashion, though a little too rounded toward the rear where it loses definition under the auto-show lights. Maybe out on the road some of its curves and definition will stand out. Or it really could just be somewhat of a jelly-bean shape.
More 2013 Los Angeles Auto Show Coverage
Specifications indicate the 184.3-inch Macan is a lengthy SUV among its ilk. The end-to-end dimensions don't show up on the inside where rear-seat room is in short supply. With the driver's seat positioned where I would drive, I have to slide my feet in diagonally to clear the rear seat's elevated floor. Good luck fitting three adults in the backseat.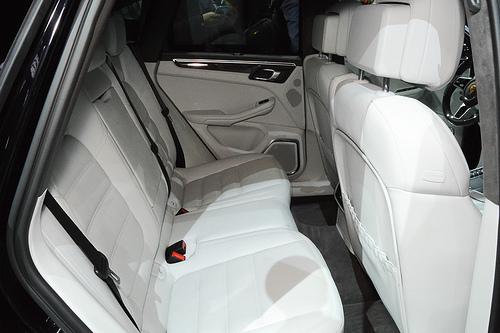 Even though the rear seat is narrow and legroom is in short supply, headroom is decent despite the sloping rear roof. Skinny people with short legs and abnormally long torsos should fit in the Macan's backseat just fine. The Macan may be better suited for carrying children than adults, or cargo instead of people.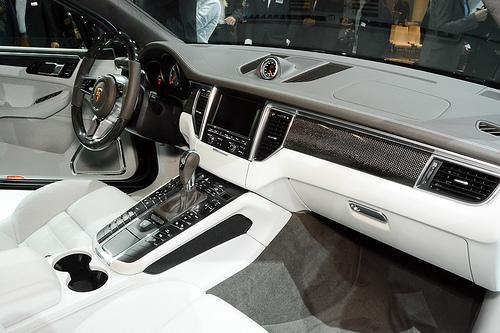 Up front, the Macan feels appropriately like a Porsche. There's no shortage of sports car inspiration with the attractive steering wheel, classic Porsche gauges and well-appointed materials on the dashboard, door panels and steering wheel. The Macan Turbo I explored had part of the steering wheel covered in carbon fiber.
There's no such thing as too much carbon fiber when it looks this good. The carbon fiber pattern also makes an appearance on the Macan's side in what Porsche calls side blades - an awkward-looking accent piece that looks better in carbon fiber than the black-painted version on entry-level models. OK, maybe that crosses the line of too much carbon fiber.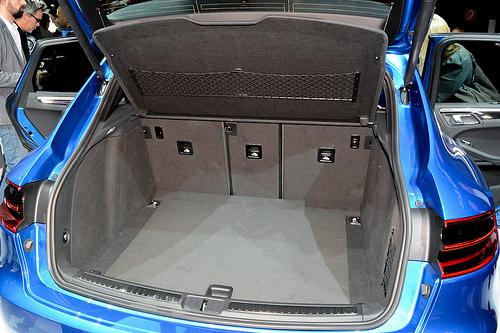 I'm all for the use of real buttons versus touch-sensitive controls. The Macan Turbo, however, goes overboard with a massive number of buttons lining the sides of the gearshift. It truly looks like a command center with buttons for the various driving modes, driving assists, air suspension, heated seats, climate control and more. Does there really need to be a Sport and Sport Plus button? Why can't one do both?