Can the Volvo V60 Bring Families Back to Wagons?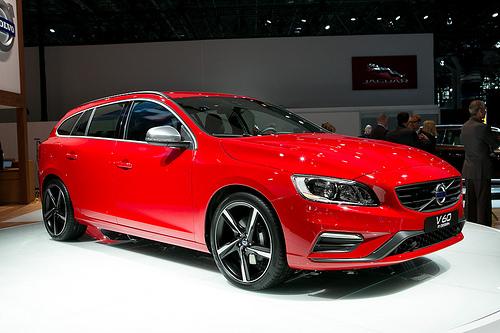 Volvo is one of those iconic brands that people have associated with families and safety for generations. Many of us have at least one memorable life experience with a Volvo station wagon. My memory? Riding in the rear-facing jump seat of one in a carpool while scheming up all sorts of mischief.
More 2013 Los Angeles Auto Show Coverage
I bought into the Volvo family brand when I purchased a C30 several years back when I was a single mom of two girls. It was safe. It was functional. It was cute, and it was fun. I sadly sold it when my family recently outgrew it. Volvo has laid the C30 to rest (cue dramatic single tear) along with many other Volvos in recent years like the V50, S40 and C70, taking just a little bit of their Volvo soul to the grave with them.
Volvo isn't gone, however, and it's banking on a bit of a brand revival starting with the introduction of its newest wagon, the V60, which I saw at the 2013 Los Angeles Auto Show.
The V60 might not ring in any nostalgic Volvo station wagon memories, since it's definitely missing that boxy back end for which the brand was recognized (I'm told that all Volvo stations wagons were at one time required to fit a specific brand of Swedish washing machine in the box into the cargo space, hence that instantly recognizable box-shaped rear end of retro Volvos). Some at Volvo might even describe the V60 as more sedanlike with hatchback versatility or even a five-door version of the S60.
Add in Volvo's legendary safety innovations — including standard City Safety, an available technology package with an all-new industry-first cyclist detection and avoidance system, a built-in dual-stage booster seat option and front- or all-wheel-drive options — and you have a customizable vehicle that will have wagon lovers salivating.
Volvo is hoping that the introduction of the V60 will bring "enlightened families" back to the brand and back to the showroom. Maybe they will buy a V60 or maybe they'll be reacquainted with and tempted by Volvo's other vehicles and find one that's a great fit for their family.
However, if a three-row SUV is a better fit for your growing family, you may want to wait just one more year until the completely new and reimagined XC90 is introduced. It sounds like it's going to be intriguing.