Ford Edge Concept: Up Close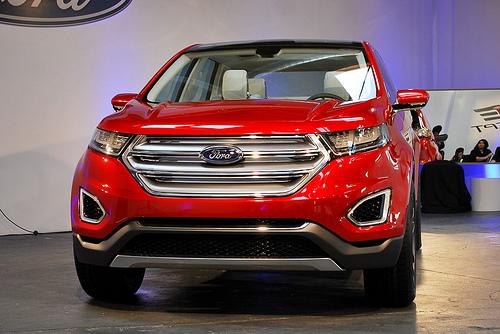 A couple miles east of the Los Angeles Convention Center, home to the 2013 Los Angeles Auto Show, I got a good look at the Ford Edge concept. Ford showed the concept, which should closely resemble the next-gen Edge, to journalists a day before Wednesday's press-conference bonanza.
More 2013 Los Angeles Auto Show Coverage
Like the current Edge, which design manager Kevin George called "very modern in its slab-sidedness," the Edge concept has a lot of sheet metal below the windows. George said Ford wanted to turn the "heavyweight boxer" image into a "sprinter" with the concept. It's sleek, but there's still a lot of perceived weight.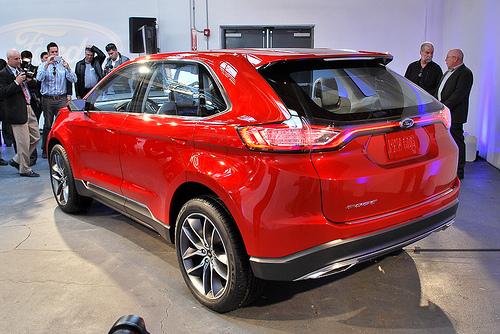 Above its hulking bodywork, the concept crowds the windows up high to lend an imposing stance behind an in-your-face grille. The lights — crystalline LEDs up front, intricate LED piping in back — take minimal space on this canvas, an ethos that retiring design chief J Mays (no relation to myself) brought to recent Fords. The concept's 21-inch wheels are no longer a reach; the current Edge offers 22s.
Versus the current Edge, the concept appears to have longer rear doors and a shorter overall cargo area. Ford didn't furnish volume specs, but the cargo floor looked on the smallish side — and if it this Edge sheds much space versus the current SUV's 32.2 cubic feet, it would trail its leading competitors. In back, the concept's D-pillars kick up at their base, which does away with the existing Edge's flat beltline and helpful rear-quarter windows. Visibility takes a hit.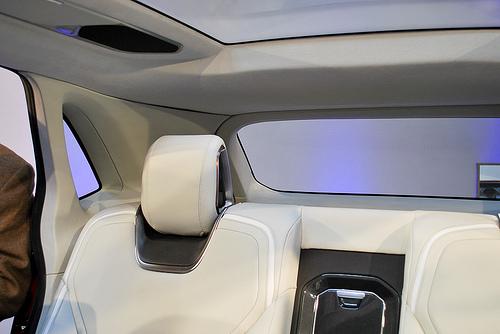 Such is the price to pay for style, which the concept has in spades. High-end Nubuck leather wraps most of the dash and upper doors, and Ford officials said the inlays have real aluminum and carbon fiber, the latter laced with copper wire. The concept appeared to have a capacitive version of Ford's MyFord Touch, but one official told me the buttons will be back. Thank goodness.
Technology could impress, especially if Ford perfects the driverless automated parking it showed by video to journalists. If your parking spot is too narrow — or you risk dipping your shoes in a puddle — hop out, press a key-fob button and get in. It seems far-fetched, but so did self-parking cars until we first used them.
Cristina Aquino, the Edge's marketing manager, said U.S. shoppers are on pace to buy more Edges in 2013 than they did in 2007, its first full year on the market. The sales tailwind could justify moving the Edge upmarket — especially given the rival Jeep Grand Cherokee now tops out close to $60,000 in non-SRT versions.
Marketing chief Jim Farley said that's an interesting possibility; he doesn't think Ford risks encroaching on the Explorer's turf, as Edge/Explorer shoppers are two different sorts. But Ford needs commensurate cabin quality if it wants to do that. The current Edge still has glaring inconsistencies between its dash and door materials, for one. The concept suggests Ford could improve on that in a big way.