Gasoline Prices Creep Up Ahead of Holiday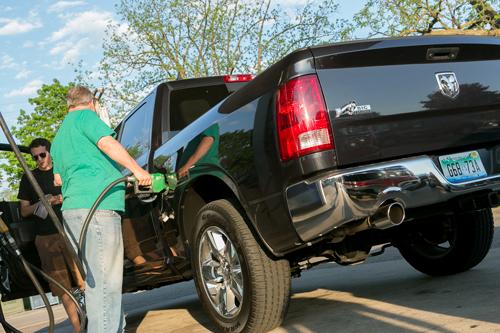 After a steady decline that started Sept. 1, gasoline prices have marched upward during the last two weeks — just in time for when millions of Americans hit the road for Thanksgiving week and the traditional start of the holiday shopping season.
The AAA Daily Fuel Gauge Report said pump prices have jumped more than 10 cents in the last 14 days to a national average of $3.29 for regular unleaded. As of Tuesday, the average national price was 8 cents higher than a week ago, even with month-ago prices, and 13 cents lower than Nov. 26, 2012.
AAA said the recent increases are due mainly to refinery issues in the Gulf Coast and stronger demand for gas; it expects prices to begin to decline again after the Thanksgiving weekend, as cheaper gas makes its way through the supply chain.
The biggest increases were in the South, Southwest and Gulf Coast. Florida's prices rose 18 cents per gallon in the past week to $3.44, and in Texas they were up 16 cents to $3.14. Prices climbed 11 cents or more during the last week in Louisiana, Mississippi, North Carolina, Virginia and the District of Columbia.
As of Tuesday, Missouri had the lowest average price for regular at $2.99, the only state that was less than $3. Oklahoma was next at $3.00, followed by Kansas at $3.02. Hawaii had the most expensive gas at $3.94 per gallon, and Alaska was next at $3.68. Among the lower 48 states, Connecticut was highest at $3.64, topping neighboring New York, $3.63, and California, $3.56.
"AAA predicts that the national average will fall to about $3.10 per gallon before the end of the year, and an increasing number of motorists will enjoy local prices below $3 as the [December and January] holidays near," the organization said in its weekly overview.
In its annual Thanksgiving forecast, AAA said 90 percent of Americans who travel this week, or nearly 39 million, will do so by automobile, a decline of 1.6 percent from last year. The total number of travelers, 43.4 million, is down 1.5 percent from a year ago, but the average travel distance of 601 miles is up slightly.
Wednesday will be the busiest travel day of the long holiday weekend, according to an AAA survey, with 37 percent expected to leave on that day. Sunday is expected to be the second busiest, when 33 percent say they will return. However, 24 percent will delay their return until Dec. 2 or later, the AAA survey found.
Related
Travel Safely This Thanksgiving
How to Transport Holiday Foods Safely in the Car
AAA: Gas Price Increase Is Temporary