Honda to Debut Fuel-Cell Electric Vehicle Concept at 2013 L.A. Auto Show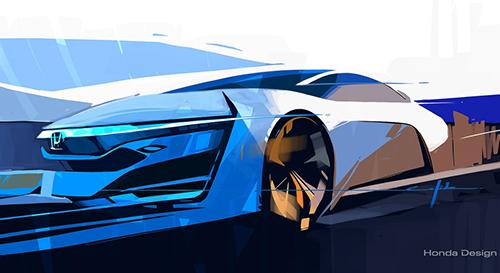 Honda today released a sketch of its new fuel-cell electric vehicle concept, which it plans to unveil Nov. 20 at the 2013 Los Angeles Auto Show. The automaker says the Honda FCEV concept represents a potential styling direction for its new vehicle using the alternative fuel technology; Honda plans to begin selling the car in the U.S. by 2015.
"As we work toward the introduction of our next-generation fuel-cell vehicle in 2015, our long-term experience with fuel-cell technologies will help us pave a way towards a zero-emissions future," said Mike Accavitti, Honda senior vice president.
Honda's earlier efforts to introduce the technology to the retail market started more than a decade ago, when the automaker started leasing FCEVs to fleet customers; it also put individual retail customers behind the wheel of FCEVs in 2005. About two dozen customers now drive the FCX Clarity, Honda said.
Honda is not alone in its fuel-cell ambitions. Hyundai earlier this year announced that it, too, would launch an FCEV; it said the Tucson Fuel-Cell Electric Vehicle should hit the retail market by 2015, with an initial target sales goal of 1,000 units and an eventual one of 10 times that. Hyundai boasted that its FCEV Tucson is a "world car," retaining most of the utility of the conventional compact crossover. No specs for the Honda FCEV have been announced, but the Tucson FCEV reportedly holds 5.64 kilograms of compressed hydrogen and uses a lithium-polymer battery, good for a reported range of 369 miles and a combined EPA fuel-economy rating of 71 mpg.
Watch for more Cars.com coverage of the Honda FCEV concept later this month at the 2013 Los Angeles Auto Show.
Related
Hyundai Plans Tucson Fuel-Cell for 2015
2013 L.A. Auto Show: What To Expect
More Hybrid/Alternative Fuel News on Cars.com