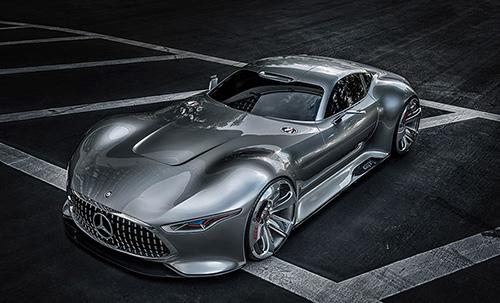 Looks like: Something that would appear only in a virtual world
Defining characteristics: Heart-stopping looks, variable-LED grille
Ridiculous features: Appears to have zero suspension travel
Chance of being mass-produced: Video games are mass-produced, so in a sense, 100 percent
Described as a 1:1 model (meaning full-sized), the AMG Vision Gran Turismo concept is Mercedes-Benz's answer to a call for futuristic concepts from the developers of the "Gran Turismo" PlayStation 3 video game.
More 2013 Los Angeles Auto Show Coverage  
Mercedes' Vision Gran Turismo, and other automakers' efforts using the same VGT name, will gradually be incorporated into "Gran Turismo 6" via online updates after the game goes on sale in December.
The gull-winged AMG VGT looks like an exaggerated SLS AMG in raw sheet metal, but Mercedes says it's silver paint. Mercedes says the grille louvers are actually LED-light arrays that can display different light patterns.
The AMG VGT is powered by a biturbo V-8 engine good for 577 horsepower and 590 pounds-feet of torque, though Mercedes hasn't specified the displacement, or many other details, short of a curb weight of 3,053 pounds that can't be much of a challenge for such a beefy block.
Mercedes promises to reveal more technical details Wednesday. Check out the gallery below.