Move Over Laptops; Touchpads Are on the Rise in Cars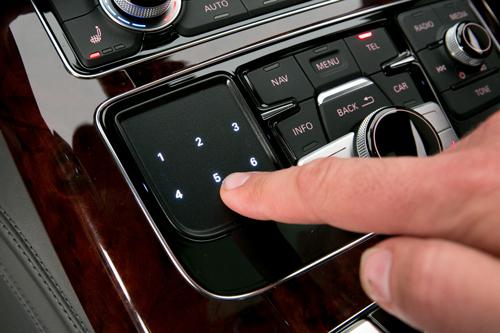 A budding group of automakers is embracing something that's ubiquitous outside the car: the humble touchpad. Popularized by laptops since the 1990s, the touchpad is everywhere, including in more and more cars.
We first saw Audi incorporate a touchpad with its Multi Media Interface, thereafter dubbed MMI Touch, in November 2009, and we got a hands-on look just six weeks later. MMI Touch augmented MMI with map scrolling and character recognition, which helped with writing-intense functions like navigation entries. MMI Touch debuted on the A8 (pictured above) and subsequent S8 sedans, and Audi has since thrown it in the new A7/S7 and redesigned A6/S6.
In 2012, BMW joined the fray with iDrive Touch, and Mercedes-Benz is close behind with the 2015 C-Class, which mounts a touchpad above the control knob to operate the Comand multimedia system. Lexus is joining the party too; its forthcoming RC Concept adapts a touchpad to the brand's Remote Touch Interface. Touchpads buck the trend in multimedia systems for touch-screens or control knobs — but seldom both. How shoppers will react? For now, the sample size is still too small.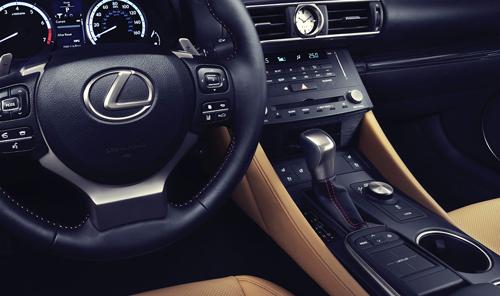 'Borrowed From Apple'
Lexus officials were mum on their touchpad, which will appear when the production-intent RC (pictured above) arrives. Spokesman Bill Kwong characterized the system as "more like a touchpad on a laptop" but he wouldn't share more info until the Tokyo Motor Show press days, Nov. 20-21.
Mercedes-Benz spokeswoman Terry Wei detailed the C-Class' unit (pictured below), which will "essentially do the same thing" between the touchpad and dial. The system sports a number of capabilities "borrowed from Apple" products, she said: You can swipe your finger to swap menus, for example, or make a pinching motion to zoom.
Touch-Screen Functionality, Sort Of
That's what touchpads aim to do, IHS iSuppli senior analyst Mark Boyadjis explained. Certain automakers have eschewed touch-screens for varying reasons, but people still want them. Touchpads are a compromise.
"It gives the interface of a touch-screen without having the aesthetics of fingerprints," Boyadjis told us. "They're trying to create a touch-screen without having a touch-screen. That's the way around it."
It isn't just fingerprints. Screen placement is a big issue, said Anupam Malhotra, who heads up Audi's connected vehicles program. "Back in [the] 2006- 2007 time frame, when we started looking at what should be the next-generation user interface, there [were] some core principals," he said. "We had rotary knobs and controls, and the next big thing was voice recognition. And there was a clear indication that touch-screens were going to be a big thing too."
But touch-screens present too much distraction, he said. "If you do studies on how accurate people are in terms of maintaining — staying inside of — the center of the lane," Malhotra said, "when people reached out to touch-screens they were more likely to move."
Mercedes' Wei agreed. "If you have a touch-screen, it forces the driver or the user to move forward to interact," she said. "Depending on where the screen actually is, your eyes are drawn downward."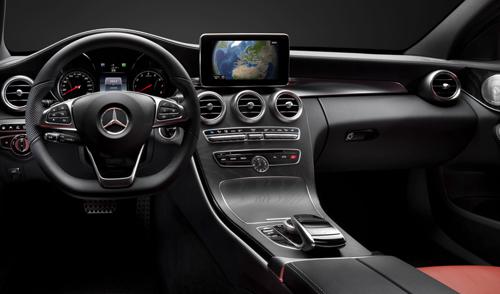 But drivers still use tablets and smartphones everywhere
else
. Touch-screens have won the popular vote — even if they're less efficient for typing, as one
GM engineer conceded
— and consumer tastes may push the holdouts there eventually.
"What you're seeing today is the result of the decisions we made when we were evaluating technologies in [that] day," Malhotra said, referring to the late 2000s. "Since the iPads and the other tablets of the world have come out, touch-screens have made significant progress."
"As the customer behavior adapts, we may consider looking at a future implementation of a touch-screen," he added, "but we don't think that a touch- screen will necessarily do away with a touchpad. Touchpads are here to stay."
If sales are any indication, consumers like them. From July 2012 to June 2013, Audi's A8 and S8 sedans captured 12 percent of sales among upper-crust luxury four-doors. That's nearly double the market share of the prior-generation A8 when it arrived. What's more, the A8 scored a podium finish in J.D. Power's Automotive Performance, Execution and Layout study, which surveys consumer appeal across electronics and other areas. If MMI Touch fell flat, it would have marred A8 sales and scores.
'Oil and Water'
Still, Boyadjis warns that touchpads risk irrelevancy — particularly if they're a halfway point between knob controllers, touch-screens or systems like Mazda's new Mazda Connect that employ both.
"I don't know if that's going to be perceived on the user side as advantageous or not, because one of the inherent HMI [human machine interface] benefits of a touch-screen is that it's a one-to-one kind of intuitiveness," IHS' Boyadjis said. "If I want to go to navigation, I press the navigation button. I don't need to go to a cursor."
By contrast, "a third of each iDrive screen is taken up with the actual visualization with the knob, and the menus on MMI are curved — they're text-based and curved," he said. "I'm not convinced that a touchpad, even in its newest form, is going to replicate the UI [user interface] experience of a touch-screen."
The "rules for a touch-screen are so vastly different from one for a rotary controller," Boyadjis said. "Trying to combine them is trying to mix oil and water."
That's precisely what some automakers are trying to do. Time will tell if they succeed.
Related
2015 Audi A3, S3: Up Close
2014 BMW 5 Series: What's Changed
More Industry News