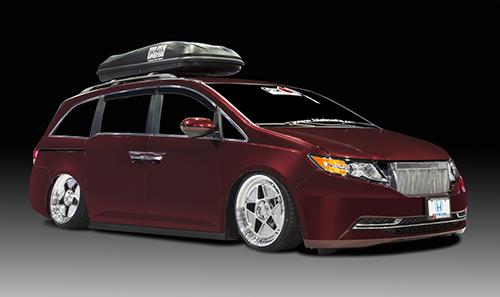 What happens when you put the innovative minds of a car customizer known for performance-tuning Porsches in charge of souping up a vehicle best known for ferrying children to and from varied after-school sporting events? You get the 1,029-horsepower soccer-mom minivan from H-E-double-hockey-sticks — otherwise known as the Bisimoto 2014 Honda Odyssey Project — guaranteed to have all the kiddies in the suburbs squealing, "Mommy, no!"
Southern California-based Bisimoto Engineering created their "Power Van" based on the 2014 Honda Odyssey, reimagining the standard minivan's respectable 3.5-liter V-6 as a twin-turbo powerhouse with more than triple the horsepower and mating it to a six-speed manual transmission. That's in addition to a customized cabin and a low-riding, aggressive exterior restyle just to drive home the absurdity of it all. No word on whether the HondaVac is optional.
The Bisimoto Odyssey was unveiled this week at the 2013 Specialty Equipment Market Association Show in Las Vegas. Check out the photo gallery below.
Related

Research the 2014 Honda Odyssey
Suction Wars: The HondaVac Versus My DustBuster
More SEMA News on Cars.com