2013 Car Seat Check Report Card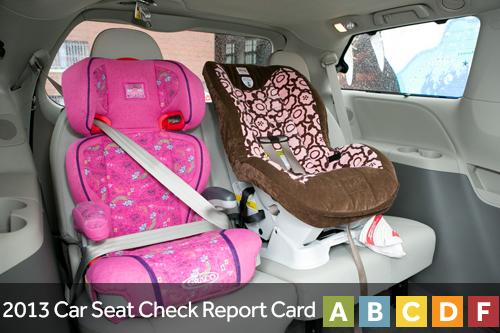 Parents of young children will be spending years driving around with their child-safety seats, and most of them take up a lot of backseat real estate. Vehicles accommodate cars seats differently in terms of fit, room and ease of use, and no one knows this more than Cars.com editors and moms, Jennifer Geiger and Jennifer Newman. We spent 2013 installing car seats in more than 55 new cars, trucks and SUVs.
All stars include the A-list Ford Taurus and Nissan Pathfinder; rounding out the bottom of the report card is the cramped and inhospitable Mercedes-Benz CLA-Class. Below is a full list of the GPAs, from the over-achieving 4.0s to the un-family-friendly 1.8s.

Related
More Car Seat Checks
How Cars.com Performs Car Seat Checks
More Family News