2014 Buick LaCrosse: Family Review Checklist
The 2014 Buick LaCrosse is likable. It's not lovable. It's not perfect for families, especially larger ones like mine. But, with an elegant and comfortable interior, a V-6 engine and a smooth, quiet ride, it's most definitely likable.
The 2014 LaCrosse has been refreshed, both outside and in. The exterior shape is rather ho-hum, though the addition of wing-shaped LED headlights and taillights adds some spunk. A new front grille includes active shutters that close at high speeds to improve aerodynamics.
I tested the LaCrosse Premium I with all-wheel drive and a 3.6-liter V-6 engine. With 304 horsepower and 264 pounds-feet of torque, this engine generates ample power. I drove a 100-mile stretch of mountainous terrain in foul weather, but the mountain passes and slick roads presented no problems at all. The LaCrosse with a V-6 gets an EPA-estimated 17/26/20 mpg city/highway/combined, and I averaged almost 20 mpg on my weeklong test drive. A mild-hybrid system — a 2.4-liter four-cylinder engine that's paired to an electric motor powered by a lithium-ion battery pack — is also available; it bumps up fuel economy to 25/36/29 mpg but reduces power.
The LaCrosse's interior is stunning. My test car featured perforated leather seats that were delightfully comfortable. There's just enough silver lining in the cabin to make you think life is good. A new center stack layout allows for a user-friendly, intuitive experience.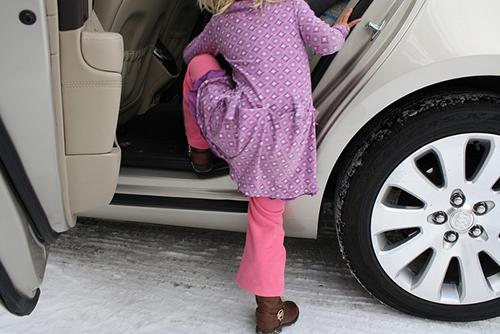 When it comes to family life in the LaCrosse, things aren't quite as perfect. On the positive side, it has a plethora of available active safety features such as blind spot warning, lane departure warning, forward collision warning with available automatic brake, rear cross-traffic alert, adaptive cruise control and Lane Change Alert, which warns the driver of a fast-approaching car in the next lane. Also, kids climb in and out of this car easily since it's a sedan, and bigger kids are able to open and close the doors.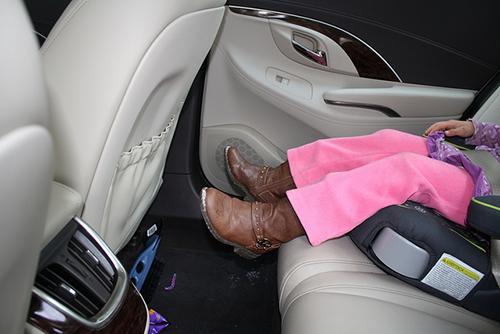 Legroom is plentiful in both rows of the LaCrosse with 41.7 inches for the front row and 40.5 inches of legroom for the backseat. Its competitor, the Lexus ES 350 has similar numbers when it comes to legroom, with 41.9 inches in the front and 40.0 inches in the back. The Acura TL beats both cars with its front legroom number of 42.5 inches, but falls short in the backseat at 36.2.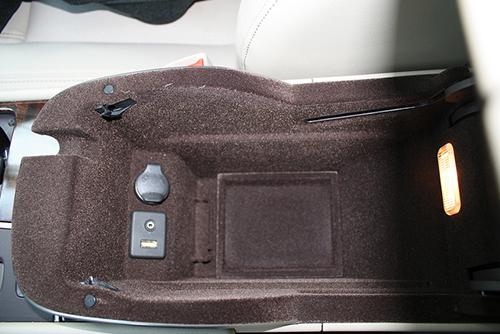 On the down side, storage is lacking, and my family of five needs storage. Throughout the cabin, cubbies and the center console are on the wrong side of useful. The center console can't hold more than a wallet and a small bag of snacks, and the door pockets don't offer enough flexibility.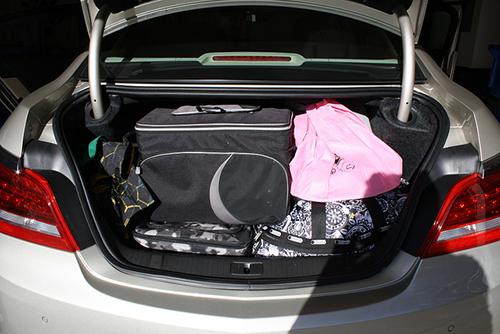 With effort, I was able to fit my family's ski gear — minus the skis — into the LaCrosse's 13.3-cubic-foot trunk. The ES 350 has a 15.2-cubic-foot trunk, but the TL has a smaller one at 12.5 cubic feet. The LaCrosse's 60/40-split rear seats fold, allowing for more cargo room when the kids aren't in this car.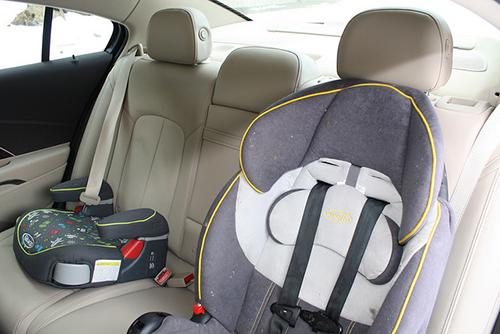 When the kids are with you, you can fit two child-safety seats across the backseat, which meant the LaCrosse didn't quite work for my three kids who are all in car seats. The LaCrosse has five easy-to-use lower Latch anchors, with two sets found at the outboard seats and one anchor in the middle seat. This setup allows some flexibility when installing car seats; parents can use the Latch anchors to install a car seat in the middle seating position, which isn't usually allowed when there are only two sets of Latch anchors. However, the top tethers are tough to get to due to the angle of the rear window.
The LaCrosse has a lot to like, but it's not a good fit for all families. If you're a family of four or fewer that doesn't travel great distances by car and doesn't participate in gear-heavy activities, this car deserves a look. However, if you're a bigger family that does not travel light, a little more space than the LaCrosse offers is necessary.
Related
2014 Buick LaCrosse: First Drive
2014 Buick LaCrosse: Photo Gallery
More Family News