2014 Chevrolet Corvette Stingray: More Photos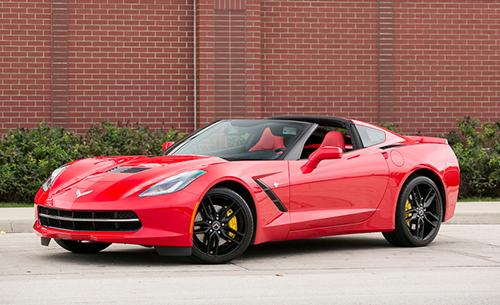 You might only spend up to $70,000 on the 2014 Chevrolet Corvette Stingray, but Cars.com reviewer Joe Bruzek says it'll still look like a million bucks. If you're at all interested in the seventh-generation 'Vette, by now you've already seen its bold new styling that our editors generally agree updates this iconic coupe's looks without alienating purists.
Some notable exterior features include a gaping lower grille, defined rocker creases and shoulder lines, optional multimode exhaust and rear spoiler and Stingray badging. Our tester was red with black accent trim on the hood, brake vents and side cladding, as well as a black rear end. The handy removable roof is made of lightweight carbon fiber and stows easily in the trunk, allowing for storage underneath.
Inside are a host of new technologies and materials, particularly configurable gauges that allow drivers to make the car-info display as complicated as they like or as simple as just the tachometer, along with an 8-inch touch-screen. In addition, the base GT leather seats are new and improved, while optional carbon-fiber interior flourishes — despite being authentic — just aren't convincing enough to pay extra for.
Check out the gallery below; Cars.com photos by Evan Sears.
Related
2014 Chevrolet Corvette Stingray Video
2014 Chevrolet Corvette Stingray Cars.com Review
More Chevrolet Corvette News on Cars.com