2014 Ford Fusion Hybrid: Chasing 47 MPG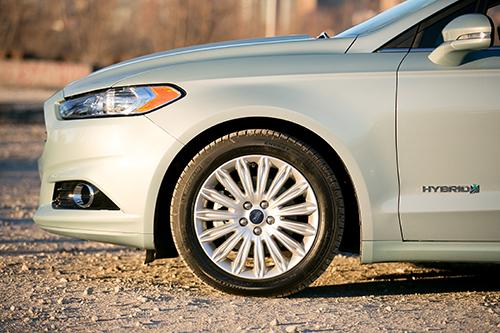 Last year, we weren't the only ones to observe less-than-stellar fuel economy from the then-new 2013 Ford Fusion Hybrid compared to its 47/47/47 mpg city/highway/combined EPA rating. Other publications and owners also reported mileage lower than the EPA ratings. The pile of complaints didn't fall on deaf ears.
In August 2013, Ford released software updates to the 2013 Fusion Hybrid and other hybrids to modify various hybrid parameters for improved fuel economy, especially in cold weather. Official EPA estimates haven't been revised, but we recently tested a 2014 with the updates. Our number to beat was 40.63 mpg recorded with a 2013 Ford Fusion Hybrid tested last year. So how did the 2014 model fare during our drive?
This time around, the Fusion Hybrid averaged 41.8 mpg after 285.9 miles of driving (201 miles last year) in mostly bumper-to-bumper traffic with speeds averaging 24.8 mph. It's impossible to exactly mirror last year's testing. Like always, we drive test cars during our daily routines and report the observed mileage. You can dive into the specs of last year's recorded mileage in the review, here, where mileage, outside temperature, average speed and distance are listed.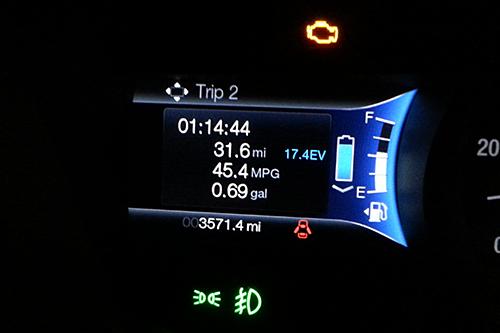 Leading the field of highest single-leg trips this test was a 45.4 mpg commute, just shy of 47 mpg. The 31.6-mile drive from downtown Chicago to the western suburbs was a mix of highway and rush-hour traffic averaging 25 mph, which is a fairly typical commute.
In both tests, I reset the onboard mileage computer before departing on an errand or commute and logged the car's onboard mileage data each time. The slower average speeds and warmer weather (50-60 degrees) compared to the 2013's colder weather and higher-average speed test didn't help the Fusion's mileage as much as expected. The type of driving the updated software is supposed to help is cold performance and highway driving, which were styles of driving our 2014 test didn't experience much.
Despite struggling to hit 47 mpg, the take-away is that my overall positive impression of the Ford Fusion Hybrid remains. Coming up short in mileage isn't as big of a detractor as you'd imagine because of how refined, quiet and smooth the Fusion Hybrid rides while still delivering competitive fuel economy. The near-seamless transition between electric and gasoline modes combined with a folding rear seat means it's a gem in the midsize sedan segment. Plus, the standard MyFord Touch is one of the least-annoying examples of the system because the heated seat buttons are outside of the touch-screen, and there's a real dial for tuning.
Related
Ford Hybrids To Get Mileage Boost After Complaints
2013 Ford Fusion Hybrid Review
More Fusion News