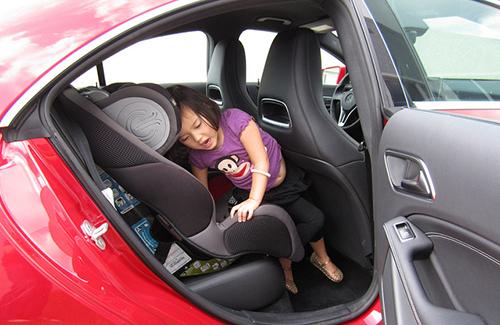 The all-new 2014 Mercedes-Benz CLA-Class sedan, which starts at $30,825 including a $925 destination fee, piqued my interest as a budget-conscious parent. The automaker isn't marketing this compact sedan to families, but I couldn't help but think about how it could be a great fit for my family of three. We don't lug around a double-stroller; we're past the rear-facing child-safety-seat stage, and come on, it couldn't be that much of a stretch if it has four doors, right?
I had such high hopes for the 2014 CLA250, but after a weeklong test drive, I was forced to concede that it just doesn't work for families with small children.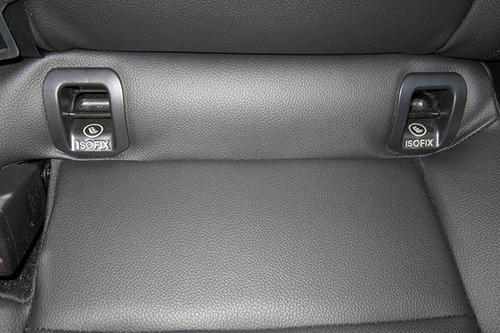 Ironically, the CLA has some of the easiest lower Latch anchors I've used, but the family friendliness stops there. This car even failed Cars.com's Car Seat Check. Because child-safety seats vary, I was able to install my daughter's forward-facing convertible seat, but I had problems with the tether anchors. The space around the anchor was so shallow that it was difficult to connect to it, and the fixed head restraints blocked access, too. To connect to the tether anchor, I folded the rear seat forward to access the tether anchor. I got it connected after a few tries, but the tether hook became mangled in the process. Once we took the car seat out, my husband had to use pliers to straighten it. Not cool.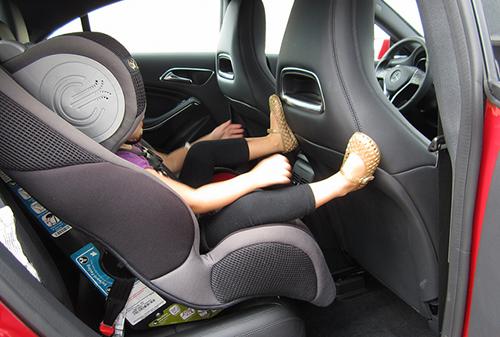 Unfortunately, our hassles weren't over even after the battle of car-seat installation was won. The CLA's rear door openings were so small that the side of our bulky safety seat swallowed up any space. Combined with the front passenger seat's design, it seemed my daughter had mere centimeters to squeeze in back and get seated. It was easier for her to enter the CLA250 on the other side of the backseat and climb across it to get into her car seat. Her human-pretzel-like antics made me chuckle at first, but in the end, she's a 2-year-old who can't get in the backseat. That doesn't bode well for other passengers.
I even tried moving her car seat to the backseat's middle position. In theory it was a good idea, but once the car seat was installed, rear visibility was terrible. The CLA's sleek, sloping design is extreme and makes for tunnel vision on its own, but the convertible car seat's high back further obstructed the already limited view. It was so bad that I had to change the car seat's position immediately.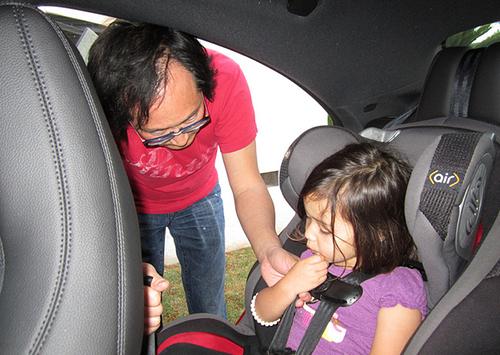 The CLA250's precision handling couldn't lessen the sting I felt every time my head hit the roofline as I got my daughter strapped in to her car seat or make me forget those grueling rides where tantrums ensued after 5 minutes of cramped legs. The car's high belt line made my daughter even more vocal about not being able to see out the window.
No matter how many bells and whistles the CLA has, there is no easy car-seat option that transforms this compact sedan into something more comfortable (and practical) for kids and their parents. Looks like you'll have to pony up for a C-Class or higher, Mom and Dad.
Related
2014 Mercedes-Benz CLA-Class Review
2014 Mercedes-Benz CLA-Class: Explaining the Trim Levels
More Family News