Camry, Impala Top Most-Stolen List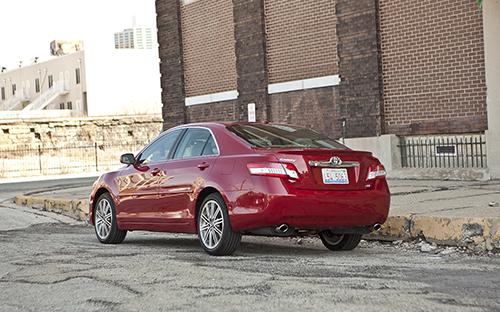 Among midsize and large cars, the Toyota Camry and Chevrolet Impala proved most popular among thieves, according to a new report from the crime-stats crunchers at the National Insurance Crime Bureau in Des Plaines, Ill. The report is based on National Crime Information Center vehicle-theft records for a period spanning Jan. 1, 2009, through Dec. 31, 2012, and limited to the 2010, 2011 and 2012 model years. Researchers culled the top 10 list from the 16 makes and 20 models of the midsize class, and the nine makes and 10 models of the large-vehicle class.
During the counting period, a total of 31,586 vehicles were stolen from both car classes combined, with the midsize group comprising the vast majority, with 22,090 thefts, or 70 percent.
The top 10 large/midsize vehicle thefts by make and model are:
1. Toyota Camry, midsize; 4,619 thefts
2. Chevrolet Impala, large; 3,608
3. Nissan Altima, midsize; 3,103
4. Chevrolet Malibu, midsize; 3,035
5. Ford Fusion, midsize; 2,819
6. Dodge Charger, large; 2,808
7. Hyundai Sonata, midsize; 1,847
8. Honda Accord, midsize; 1,712
9. Dodge Avenger, midsize; 1,321
10. Chrysler 300, large; 1,045
Typical of theft-statistics lists, the nation's most-populous states were where the most thefts of midsize and large cars occurred, though not necessarily in order of state population. California led with 5,094 thefts, followed by Florida (3,306), Michigan (2,604), Texas (2,247) and New York (1,769). When calculated by broader metropolitan area, large and midsize thefts were most reported from the Detroit-Warren-Livonia area (2,405), the New York-Northern New Jersey-Long Island area (2,165), Los Angeles-Long Beach-Santa Ana (1,818) and Miami-Fort Lauderdale-Pompano Beach (1,586).
Related
Mercedes-Benz Is Luxury Car Thieves' Most Wanted
California Residents Ask 'Dude, Where's My Car?'
Ford Escape Tops List of Most-Stolen SUVs