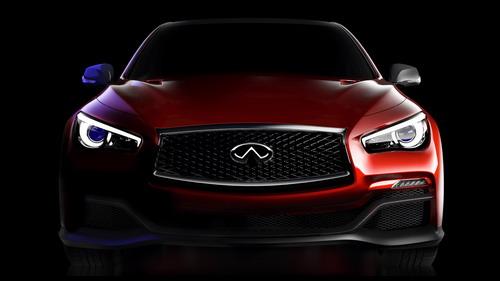 Infiniti will debut a performance concept called the Q50 Eau Rouge at January's North American International Auto Show in Detroit. It takes its name from the famous early corner at Spa-Francorchamps, the circuit that hosts Belgium's Formula One Grand Prix. Infiniti has close ties to F1 racing, having sponsored its own Infiniti Red Bull Racing team.
The Q50 Eau Rouge is based on the production Q50 sedan, which succeeds the G25/G37 and went on sale in August. A teaser photo shows clear ties to the Q50, but Infiniti says the concept will have aerodynamic styling changes and other F1-inspired elements.
Infiniti design director Alfonso Albaisa said the Q50 "provides a great basis for an extreme performance version, embodied in the design of Q50 Eau Rouge." It could preview a version of the Q50 tuned by the brand's
Infiniti Performance Line division
. The outgoing G37 coupe and convertible, churned into Infiniti's
renaming overhaul
, became the
Q60
for 2014; IPL versions of the Q60 make 348 horsepower, up from 330 hp in the Q60 coupe and 325 hp in the Q60 convertible. Still, both cars are plenty quick in base form, and IPL drivetrain tuning
did little to change that
— in part because IPL did little to change torque.
If the Q50 Eau Rouge concept delivers an eventual Q50 IPL, we'd like to see a more noticeable change in power. Still, there should be enough interest to justify a performance version. Q50 sales in November totaled 5,891 cars, which is up 21.7 percent over November 2012 sales for the G. And Q50 did that with only one body style (a sedan) versus the G's three body styles a year ago.
Stay tuned for more as the 2014 North American International Auto Show approaches.
Related
Luxury-Car Prices Tumble Again in September
Infiniti Q30 Concept at the 2013 Frankfurt Motor Show
More Infiniti News