Selling Our 2013 Subaru BRZ Wasn't Easy
We imagined unloading our mostly beloved
2013 Subaru BRZ
long-term tester would be a breeze. Not only was the Cars.com tester a loaded Limited trim level with heated seats, high-intensity discharge headlights, navigation, Alcantara and leather interior, and more, but the grin-inducing coupe had a Crystal Black Silica exterior with metallic flake paint and six-speed manual transmission that, in our eyes, is the only way to buy a BRZ.
Purchased for $31,826 out the door, owning the BRZ for 11 months sucked another $3,739.13 from our pockets in ownership costs on fuel, maintenance and repairing a cracked windshield. In the end, we sold the BRZ for $21,000.
Like our Nissan Leaf, selling the BRZ was challenging. Demand for the lightweight, rear-wheel-drive sports coupe wasn't as strong as we imagined; or at least not in Chicago, in November, with winter approaching even though we were including winter tires and heavy-duty floor mats in the asking price.

An initial asking price of $24,900 for our 13,995-mile BRZ went up on Cars.com's Sell It Yourself section without mentioning our Cars.com ties. The BRZ was priced about average among similar BRZs that didn't include winter tires or floor mats, and was spot-on with Kelley Blue Book's suggested private party value. A professional detailer did his handy work before selling to clean up light paint scratches while giving the black exterior a deep shine. Unfortunately, bird droppings damaged the paint and wasn't correctable without going to a separate paint correction specialist.
Prepped, pretty and ready to sell, the car sat for two weeks without a test drive or even a tire kicker.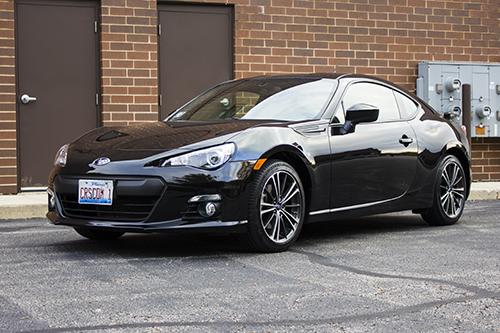 We dropped the price to $23,900 after the first week, then shortly after to $22,900. Most of the interest came from a national Subaru BRZ/Scion FR-S forum where the car was also posted. None of the offers were local, or lucrative, enough to deal with the hassle of shipping and selling out of state. Interesting trade offers included a 400-plus horsepower 2003 Mitsubishi Evolution and a turbocharged Honda S2000. I would have loved to introduce the rest of our staff to our new turbocharged Honda S2000 long-term tester, but had to pass.
I took the BRZ to a local CarMax to see how much it would buy the BRZ for, which was $21,000. The offer was only slightly less than what we wanted from a private buyer ($22,000), so at that point we lowered the asking price to $21,900 for a final few days to try and eke out an extra $900. Like before, we experienced radio silence with no offer that would be as easy as or put much more cash in our pocket than selling to CarMax. So that's what we did.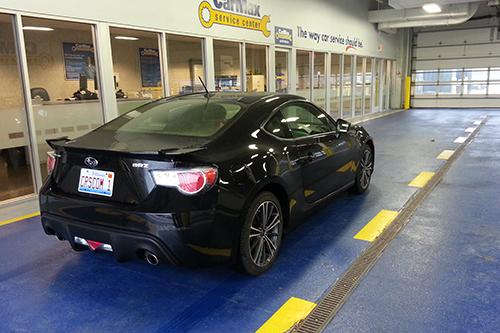 Winter may not have been the only issue with selling our BRZ. Our CarMax salesman noted an individual buyer could struggle securing a competitive private party loan because our car was so new, and cash buyers may be scarce. We fondly waved goodbye to our BRZ at the dealership, and gave a different "salute" to its irksome navigation/multimedia system one last time. CarMax didn't want the winter tires or floor mats, so we sold them for $385 to a local member of the BRZ/FR-S forum who showed interest when we posted the car for sale.
Below is a summary of our observed gas mileage after 11 months and 14,352 miles, which was the odometer reading on the dealership floor as we parted ways.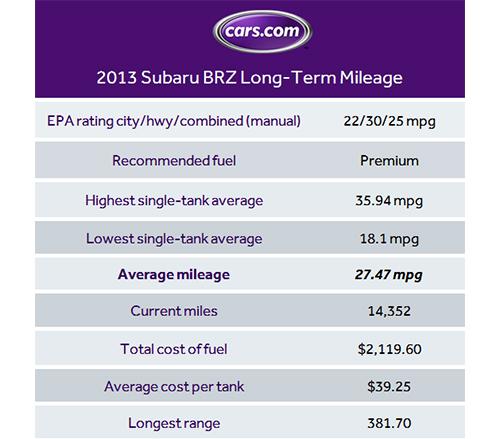 Related
Follow Our Long-Term Fleet
2013 Subaru BRZ Review
Tracking the Fuel Economy of Cars.com's 2013 Honda Civic, 2013 Subaru BRZ