2014 Honda Accord Hybrid: First Look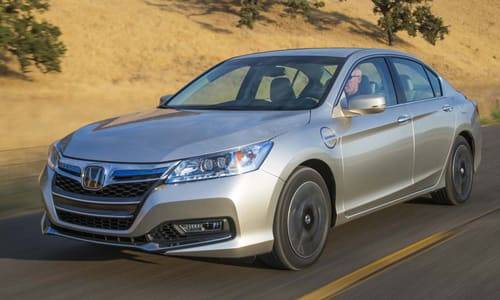 Competes with: Toyota Camry Hybrid, Ford Fusion Hybrid, Hyundai Sonata Hybrid
Looks like: A Honda Accord after a nose job
Drivetrain: 196-hp, 2.0-liter gas-electric drivetrain with CVT; front-wheel drive
Hits dealerships: 2013
Alongside the redesigned 2013 Accord sedan and coupe, Honda unveiled the Accord Hybrid for 2014. It's the first Accord Hybrid since 2007, but unlike its predecessor two generations ago, which used a go-fast V-6 gas-electric powertrain, the ninth-gen hybrid maximizes gas mileage with a four-cylinder.
Like the Ford Fusion Hybrid and Fusion Energi, the Accord Hybrid will come as a conventional hybrid and a plug-in hybrid that's capable of 10 to 15 miles of all-electric range. The Accord Plug-in Hybrid arrives in early 2013; the conventional hybrid will show up later that year.
EPA figures are still pending, but Honda expects the Accord Plug-in Hybrid to beat 100 MPGe — something Ford anticipates for the Fusion Energi — with a total driving range of 500-plus miles. The automaker has yet to reveal many details on the conventional Accord Hybrid, including mileage expectations.
Both cars combine a 2.0-liter four-cylinder on a more efficient Atkinson cycle with two electric motors to run on electric or gasoline power, or a combination of the two. Combined output is 196 horsepower and 226 pounds-feet of torque. The Accord Plug-in Hybrid uses a 6.7-kWh lithium-ion battery and 124-kW electric motor to travel up to 15 miles on electric power alone, Honda says. That beats the Toyota Prius Plug-in (11 miles, according to the EPA) but falls well short of the 2013 Chevy Volt (38 miles).
The Accord Hybrid wears dramatic visual changes, including a unique grille that plunges toward the lower bumper. Aerodynamic alloy wheels, blue-tinted headlights and the requisite hybrid badges round out the visual changes. Inside, unique gauges flank the speedometer, with power and charge meters on the left and battery and fuel range on the right. An information display with various screens — including a real-time display that shows driving efficiency — sits within the speedometer, but it isn't as elaborate as the Fusion Hybrid's LCDs. Trunk volume hasn't been announced yet, but it shrinks a great deal because of the battery pack.
Like other plug-in hybrids — but not extended-range EVs like the Volt — full acceleration will engage the engine. Charging up for the 15-mile range takes less than three hours on a 120-volt outlet, Honda says, or less than an hour on a 240-volt (Level 2) outlet. The Accord Plug-in Hybrid doesn't accept Level 3 quick-charging, though. Like with most EVs, dashboard controls and a smartphone app allow you to set charging times or precondition the cabin.
We'll let you know as we hear more details.
Related
2013 Honda Accord Sedan Shrinks, Gets Plug-in Hybrid Model
More Honda News on Cars.com
More Automotive News
Clicking on any image below will launch a larger photo gallery; you can browse through them by hitting the right and left arrow keys.