2014 Mazda6 Manual Transmission Proves Its Value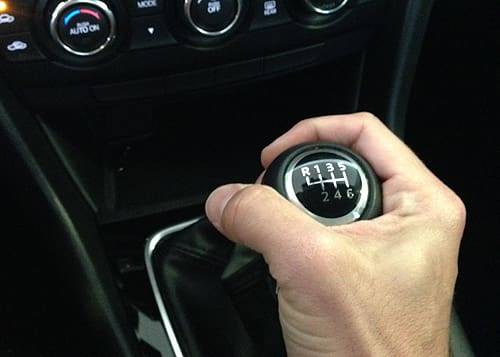 The Cars.com staff has spent quite a bit of time with the redesigned Mazda6 sedan since our first review back in February.
Since then the team has primarily driven models with the automatic transmission, which is the set-up a vast majority of buyers will choose. But with Mazda's sporty heritage, the manual transmission option may be something shoppers of this particular sedan consider more than those from other brands.
"If you want a manual, I'd say go with the Mazda6," editor and original Mazda6 reviewer Mike Hanley bluntly advised. "It's very good with a precision that's rare among midsize sedans that offer stick shifts."
"The automatic left me wanting more pep despite loving every other aspect of the car," Managing Editor David Thomas added. "The easy-shifting manual gave just the extra amount of excitement this car should have."
There aren't many other models that do offer a stick, with more than half the segment forgoing the option. The Ford Fusion, Honda Accord, Subaru Legacy and VW Passat round out the list that do allow shoppers to shift for themselves.
And shoppers who want a stick shift will have a hard time finding one on dealer lots.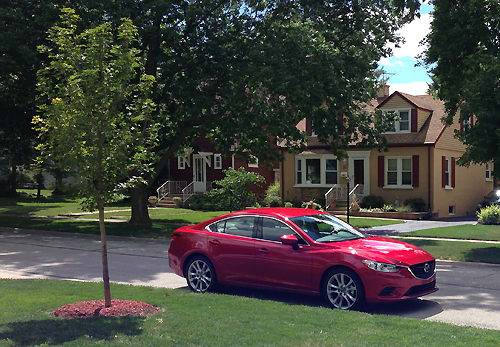 Out of nearly 16,000 new Ford Fusions that list either an automatic or manual transmission in Cars.com's national inventory, only 77 were manuals. Or just less than a half percent.
Subaru Legacy sedans aren't as popular but the percentage of manuals available was significantly higher at 2.3% with 111 manuals versus roughly 4,800 total in our inventory.
The Passat's manual mix was 1.97% out of nearly 17,000 total.
Honda's Accord manual mix was better still with approximately 900 out of nearly 33,000 new models equipped with a manual transmission or 2.7%.
There are far fewer Mazda6s available because the brand sells fewer cars in general, and the 2014s that are on sale are selling briskly. The 2014 Mazda6 takes an average 29 days to sell, far outpacing the average time to sell any new car at 62 days. The 211 manual Mazda6s in Cars.com's inventory versus 3,200 total comes to 6.59%, a significantly higher percentage than the others.
That tells us that Mazda actually wants its shoppers to have the manual option.
"The manual is definitely well-done and provides a sportier experience," adds editor Jennifer Geiger. "But it's at the expense of fuel economy." At least on paper.
Like most modern automatic and continuously variable transmissions, the Mazda6's automatic gets higher EPA ratings than the manual. If you haven't shopped for a new car in a few years this may come as a surprise as manuals used to provide the thriftier numbers. The Mazda6 manual at 25/37/29 mpg city/highway/combined falls 1 mpg short in all three categories versus the automatic. A thriftier i-Eloop package is now an option for automatic models, making that divide 3 mpg in all categories.
However, editor Joe Bruzek rang in some surprisingly excellent mileage figures during his time with the car. "Loaded with three passengers, the mileage indicator consistently hovered above 40 mpg while cruising at 40-50 mph," he reported.
Bruzek and Thomas both "enjoy" cruel daily commutes in bumper-to-bumper traffic. Thomas noted mileage hovering right at the 30 mpg mark during his commute. Typically test cars achieve their posted city mpg ratings on these commutes, not their combined number.
Bruzek's results were even better. "At the end of my hour-and-a-half commute, I averaged 33 mpg, which is huge on my commute and better than many small cars."
And while the mileage was a surprising bonus not every editor was sold on the performance benefits of the manual.
"It has potential — medium throws, good gate placement, a hefty shifter and an easy clutch to pick up — but the throttle lag really cuts the fun," countered editor Kelsey Mays. "Give the gas a quick pulse to rev-match on a downshift, and nothing happens. You have to stand on it for half a second before it kicks up revs from idle, or learn to rev-match early [and accept late downshifts] all the time."
But like most of the staff, Mays still agreed that there was some added value to the manual in an otherwise very notable new model.
"The ride and handling balance still shine and it drives like a smaller car, which family cars increasingly need to do because they've all grown so darn big," he said. "And yes, the stick shift beats the mediocre six-speed auto."
Related
2014 Mazda6 Review
What's the Most Affordable Midsize Sedan?
Research More Sedans