2014 Detroit Auto Show What You Missed: Day Two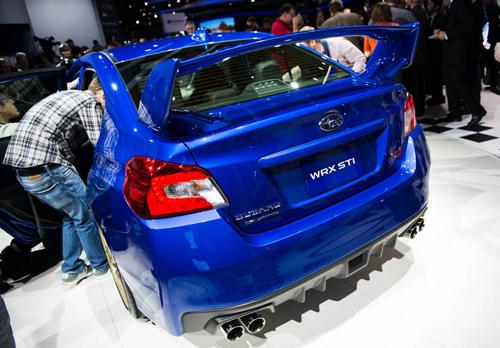 Our second day at the 2014 North American International Auto Show in Detroit brought out even more surprises from leading manufacturers. BMW turned up the throttle on its new M3 and M4, we got up close and personal with a cool concept from Volkswagen called the Beetle Dune and Cadillac showed off a two-door coupe variant of its ATS.
Other hits included the rally-cross-ready Subaru WRX STI, Kia's crazy-cool GT4 Stinger concept and the sleek Volvo Concept XC Coupe.
We also checked out the new 2015 Ford Mustang and Acura's TLX Prototype.
Catch what you missed from Day Two of the 2014 North American Auto show here:
2015 BMW M3, M4 Video
Volkswagen Golf R Photo Gallery (20 Photos)
2015 Ford Mustang Video
2015 BMW M3 Photo Gallery (22 Photos)
VW Beetle Dune Concept Car Needs More Dune, Less Beetle
Comparing Corvettes
2015 BMW M4 Photo Gallery (23 Photos)
2015 Cadillac ATS at the 2014 Detroit Auto Show
2014 BMW 2 Series Photo Gallery
Video: Five Cool Things About the 2015 Ford F-150
Kia GT4-Stinger Concept at the 2014 Detroit Auto Show
2015 Subaru WRX STI Launch Edition Available for Three Months
Volvo Concept XC Coupé Photo Gallery (22 Photos)
2015 Ford F-150 Video
2015 Lexus RC F: By the Numbers
Mini Hardtop John Cooper Works Photo Gallery (21 Photos)
The Cadillac Crest Then and Now
2015 Porsche 911 Targa Photo Gallery (28 Photos)
2015 Subaru WRX STI at the 2014 Detroit Auto Show
Kia GT4 Stinger Concept Photo Gallery (25 Photos)
2015 Subaru WRX STI Photo Gallery (20 Photos)
2015 Acura TLX Prototype at the 2014 Detroit Auto Show
2015 Ford Mustang Photo Gallery (25 Photos)
2015 Chevrolet Corvette Z06 Video
2015 Honda Fit Photo Gallery (27 Photos)
2014 Cadillac ATS Coupe Photo Gallery (20 photos)