2015 Mercedes-Benz C-Class: Up Close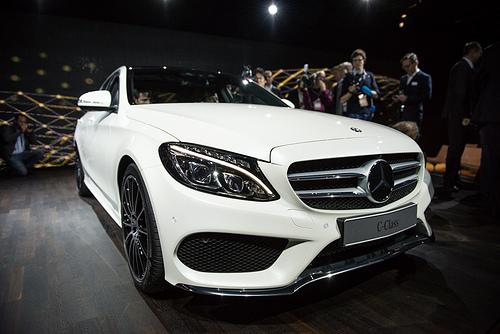 As Mercedes-Benz's best-selling product, the C-Class is an extremely important car in the U.S. The year 2015 heralds in an all-new C-Class sedan with top-to-bottom changes, including a more spacious interior, larger trunk, and all-new interior and exterior styling. I'm most excited to see the increased interior dimensions let occupants breathe a little easier — the new C-Class is wider, has a longer wheelbase and is longer overall, and the payoff is on the inside where it was needed.
More 2014 Detroit Auto Show Coverage
The 2015 promises an interior with improved quality and high-class materials, which it delivers exceptionally well in the attractive — and genuine — aluminum and wood finishes that would look right at home in Mercedes' $90,000-plus flagship S-Class.
Brushed aluminum accents on the door panel are standard, and the buttons and controls have a solid click when pushed — both are without a doubt the materials and control surfaces you should expect from a luxury car.
Two items, however, don't convey the same levels of luxury as the aforementioned interior trimmings. A little gloss black surface here and there isn't unheard of in the luxury segment, but the C-Class' simple layout of controls leaves a lot of surface area on the center console for the standard piano black gloss surface, a material that's fairly ordinary looking.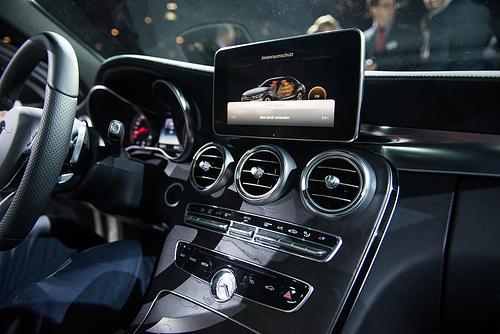 The optional black ash open-pore marbled wood with a matte finish (above) is a more attractive center console and standard with the available Sport Package. Secondly, a standing central display (7 or 8.4 inches) on top of the center console appears as an afterthought instead of a nicely integrated screen fitting within the main console.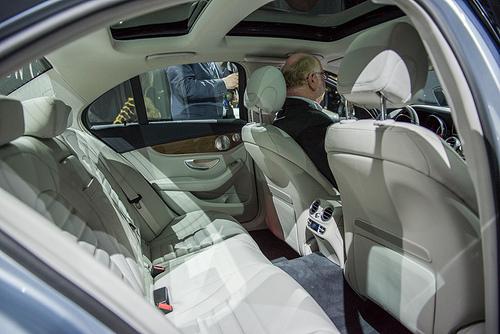 Mercedes says the increased dimensions are most improved for rear passengers. At 6 feet tall, I had no issues climbing in and out of the rear seat, and I fit back there well. The front seat has ample width and depth to move legs around and get comfortable as well.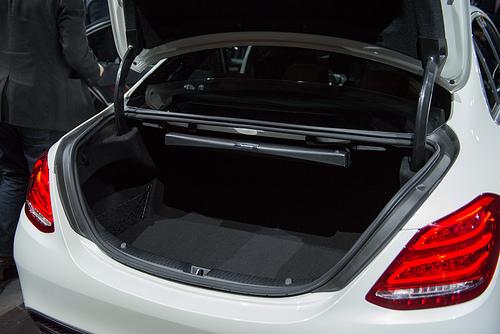 Trunk space is also improved, up to 17 cubic feet from 12.4 cubic feet. Plus, the show car featured a trick expandable storage bin cargo management system. A bin pops out of the rear trunk like a retractable cupholder, then the main cargo bin drops down to create a storage area for groceries or items that may otherwise roll around in the back. After it's used, the piece retracts right back into the trunk.