2015 Mercedes C-Class Comfort Box: Awful Name, Useful Gadget for Families
When you think about Mercedes-Benz, platitudes about German engineering, luxurious interior and cutting-edge technology may dance in your head. Creative storage solutions to help us haul our American-sized loot may not be foremost in our minds.
More 2014 Detroit Auto Show Coverage
Well, we should give Mercedes more credit. The new 2015 Mercedes-Benz C-Class features the unique Comfort Box. Designed originally to help keep you groceries from rolling all over the trunk, the Comfort Box can work equally well to contain the mess from wet, snow-loaded boots or muddy soccer balls and cleats.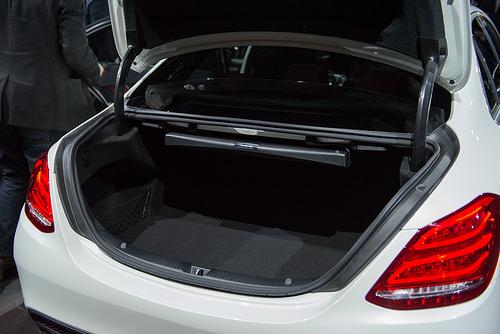 Rather than ruining the trunk's carpeted floor, you can pull out this recessed bin, press down to ratchet the bin lower and make it as deep as you need, and then load it up to contain your mess, which must weigh less than 20 pounds.
When you're done and need to store it away, a simple press of the button instantly rolls the Comfort Box up and then you can slide it out of the way. If you need to remove the entire mechanism to squeeze, say, a double stroller in the trunk, it pops out completely with two simple clips.
Now that's German engineering that my family would definitely use.