Cars.com Names Family, Play, Luxury and Eco-Friendly Cars of the Year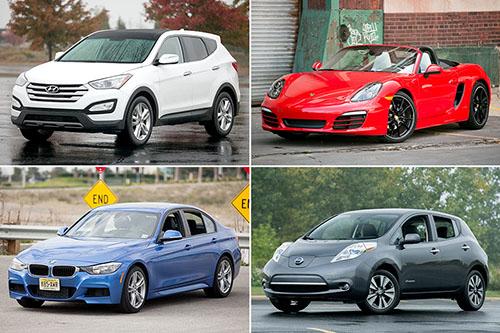 As we've done for several years now, our editors have put their heads together to pick the best cars for a variety of lifestyles, and here are the winners for 2014:
Family Car of the Year: 2014 Hyundai Santa Fe Sport
With loads of high-tech and luxurious-feeling features packed in at a competitive price, it would be hard for financially savvy and tech-appreciative families to pass over the Santa Fe Sport. Our team of editors took note and voted this midsize crossover right to the top.
Play Car of the Year: 2014 Porsche Boxster
Luxury roadsters pack handsome interiors and punchy engines, but few can connect the car and its driver like the Boxster. Thanks to its sublime balance, Porsche's mid-engine icon is still a performance car through and through.
Luxury Car of the Year: 2014 BMW 328i
The 328i is the perfect blend of luxury, sport and prestige. We tested it against the industry's best luxury sport sedans in 2013 and it came out on top, beating competitors from Acura, Audi, Cadillac, Mercedes-Benz and Volvo. It does everything well.
Eco-Friendly Car of the Year: 2014 Nissan Leaf
Less expensive and faster-charging than when it last won this award, the excellent Leaf is accessible to more buyers than ever, and the battery can be fully charged at home in about four hours rather than eight. It also adds range more quickly when grabbing juice at a public charging point.
See our complete coverage here.