Cubby Conundrum: 2014 Ford Escape Suffers From Lack of Storage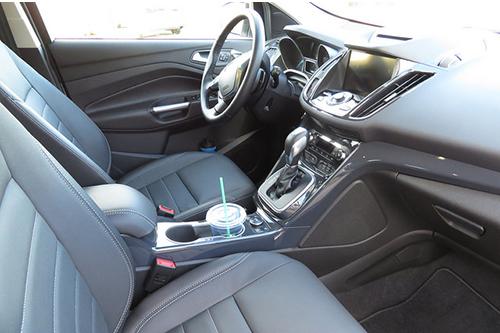 The 2014 Ford Escape, a five-seat compact crossover, is flexible when it comes to hauling people and larger items, but during a recent test drive, it seemed my kids in the backseat had the same amount of storage that I did in the front. That meant I had less than I'm used to.
2014 Ford Escape: What's Changed
I struggled with the lack of storage for my random, everyday items. There are two cupholders in the front row, but you can just eliminate one of them from the get-go because there's no small cubby for a smartphone or the Escape's enormous key fob. Reserve a cupholder for those items. Yes, you can keep them in your purse (if you carry one).
Front-row occupants also get door pockets that can house a water bottle and some smaller items like a wallet or a small purse. These pockets fill quickly as they're forced to pick up the slack when it comes to holding your items.
The glove box is a standard size, but once the owner's manual is in there, you're pressed to fit in a travel pack of tissues — forget about room for a pack of baby wipes or a spare diaper! The center console can be used to hold a few things, but it's also small.
My kids, ages 9 and 11, have learned to live with their things strewn all over the floor or backseat, so the lack of storage in the Escape or other test cars rarely fazes them. The backseat offers the usual amenities: a seatback pocket, two cupholders in a fold-down armrest and a bottleholder in each of the rear doors, though if there is a bottle in there you won't be able to store anything else. Fortunately in the Escape, there's also under-floor storage in the backseat.
While the Escape keeps reasonable expectations for passenger and cargo space, I was let down by the lack of reasonable storage for myself.