December's Fastest- and Slowest-Selling Cars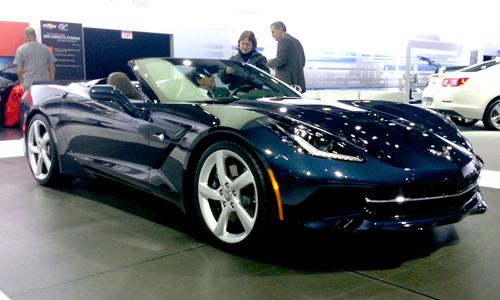 December's heavy snowfall did little to blunt the rush of shoppers looking to put the redesigned 2014 Chevrolet Corvette convertible under the Christmas tree and likely in the garage until better weather. The ragtop 'Vette averaged just four days on dealer lots in December, making it the month's fastest-selling car.

Used-Car Prices Hit New Low in December

The Land Rover Range Rover and Range Rover Sport followed — more logical choices for winter weather — and mark their fifth consecutive time on our list. The redesigned Toyota Highlander also moved fast, as did the automaker's Prius Plug-in Hybrid and RAV4 SUV.

The 2014 Corvette coupe averaged just 12 days to sell, so it made last month's fastest-selling cars, too. But Chevrolet's redesigned icon played contrary to the wintry norm. Of December's 16 fastest-selling cars, a dozen offer four-wheel drive or all-wheel drive. That's more than December 2012, when just 11 of the 18 fastest sellers had four-wheel drive or all-wheel drive. Then again, December 2012 capped a year that broke a 14-year U.S. record for the warmest. In December 2011, by contrast, 15 of the 19 fastest-selling cars offered all-wheel drive or four-wheel drive.

Shoppers also lined up for redesigns of the Nissan Rogue, Mercedes-Benz S-Class and BMW X5. Ford can take solace in the aging F-150, which landed here again. Crew-cab versions of the popular pickup sold faster (13 days) than crew-cab rivals in the Toyota Tundra (24 days), Ram 1500 (42 days) and Chevrolet Silverado 1500 (71 days).

The opposite is true for Mitsubishi, whose redesigned Outlander averaged 87 days to move. Our Outlander review sheds some light on why; this is the SUV's second time in three months in the slowest sellers. It took more than twice as long as December's 35-day average. That's above November's 29-day average, which, like December, looked only at 2014 models. Cars in December 2012 (at that point, 2013 models) averaged 33 days to turn.

Stay tuned for the top 10 best-selling cars when automakers report December's sales figures later today. Here are December's fastest- and slowest-selling cars:

December Movers
2014 Chevrolet Corvette convertible: 4 days
2014 Land Rover Range Rover: 6 days
2014 Land Rover Range Rover Sport: 7 days
2014 Toyota Highlander: 7 days
2014 Toyota Prius Plug-in: 8 days
2014 Toyota RAV4: 8 days
2014 Ford Edge: 10 days
2014 BMW X5: 11 days
2014 Nissan Rogue: 11 days
2014 Subaru Impreza hatchback: 11 days
2014 Chevrolet Corvette coupe: 12 days
2014 Hyundai Santa Fe (non-Sport): 12 days
2014 Nissan Sentra: 12 days
2014 Ford F-150 crew cab: 13 days
2014 Lexus GX 460: 13 days
2014 Mercedes-Benz S550: 13 days
December Losers
Cars.com Picks
About the Lists
The Fastest- and Slowest-Selling Cars list reports the average number of days it takes to sell models from the day they arrive on the lot until the final paperwork is signed by a buyer. This is not a days-of-inventory list like you may find on other websites. With lots mostly clear of 2013 models, we look exclusively at 2014s now. We call the fastest-sellers Movers and the slowest ones Losers.
For Movers, we only list vehicles that pass a certain threshold of sales in order to weed out limited editions, ultra-high-performance cars and others that might skew the numbers or otherwise inaccurately portray popularity. To highlight all slow sellers, losers have no such threshold.
Our Picks highlight cars that take a significant time before they're sold and might be overlooked by shoppers. Dealers could be more motivated to sell these cars.
Related
November's Fastest- and Slowest-Selling Cars
2013 Year-End Sales Preview
More Automotive News