Honda Is a Net Exporter, Sort Of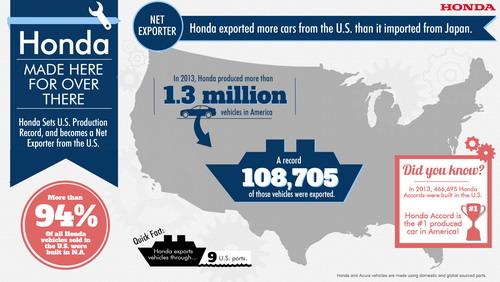 You might have heard that Honda is a net U.S. exporter, sending more U.S.-built cars to international markets than it imports into the U.S. for sale. But don't take the news at face value.
Here's why. The automaker, which includes the Honda brand and its Acura luxury division, declared itself a "net exporter in the U.S. for the first time" on Tuesday by virtue of shipping more U.S.-built cars to international markets than it imported to the U.S. in 2013.
But it only counts imports from Japan — which accounted for 88,537 cars in 2013 — in that tally. Those Japan imports fell below the 108,705 cars that Honda shipped out of the U.S. in 2013, excluding cars sent to Canada. The infographic above is provided by Honda and the line "Honda exported more cars from the U.S. than it imported from Japan" is correct.
American-Made Index: Which Automakers Affect the Most U.S. Workers?
That means Honda exported more cars from the U.S., excluding exports to Canada, than it imported from Japan alone in 2013. Did it export more cars from the U.S. than it imported from all countries? Honda won't say, but it's unlikely.
The automaker's math — and, indeed, its "net exporter" claim — has a lot of caveats. For starters, the exclusion of Canada in the export tally (108,705) masks the number of actual U.S. exports. Honda sold 164,236 cars in Canada in 2013, according to Automotive News, and many of those likely came from U.S. manufacturing plants. That means the true U.S. "export" figure could be tens of thousands of cars
more
than 108,705.
But the import total, in turn, could be exponentially greater than the 88,537 from Japan. That's because it omits the 471,296 cars Honda built in 2013 at assembly plants in El Salto, Mexico, and Alliston, Ontario. Those locations produce an unknown fraction of the Acura MDXs, Honda CR-Vs and Honda Civics sold in the U.S. Those vehicles are also produced at U.S. plants. Honda didn't disclose how many of those came to the U.S., but even if half of them did, it would mean Honda still imported far more cars than it exported, including any to Canada.
Honda wouldn't disclose any additional numbers. Honda's methods "classify imports to be anything outside of NA [North America]," spokesman Steve Kinkade wrote us in an email. And all of what Honda calls "imports" come from Japan, he said.
The upshot? Honda may be a net exporter from North America, but it's probably not a U.S. net exporter. But anyone concerned with buying U.S.-built cars shouldn't sell the automaker short.
The automaker incorporated American Honda Motor Co. Inc. — its first overseas subsidiary — in 1959. It's since invested more than $21 billion in its U.S., Canada and Mexico operations, and it began exporting cars from the U.S. in 1987. In fact, Honda says it's invested more than $2.7 billion to expand its North American operations over the past three years alone. The automaker says it directly employs just more than 28,000 Americans in the U.S., not far off Toyota's 31,471 direct U.S. employees — and a bigger chunk when you consider Honda sold 1.53 million cars in the U.S. in 2013 versus Toyota's 2.24 million, according to Automotive News.
Clearly, Honda has a large U.S. presence given its global operations. Even Matt Blunt, president of the Detroit Three-backing American Automotive Policy Council, maintained in 2013 that Detroit automakers eclipse Honda's contributions but conceded that "compared to their Asian peers, there's no question that Honda's got the most significant North American footprint."