Infiniti Q50 Eau Rouge Concept: Up Close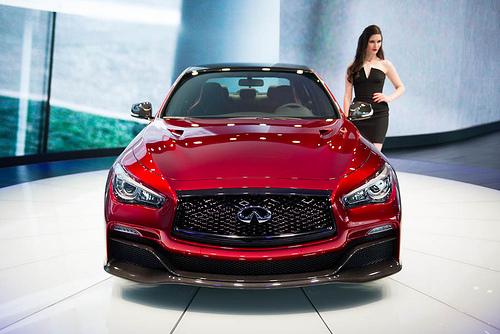 Infiniti wants a pure-bred, high-performance car in its lineup. If the Q50 Eau Rouge concept is any indication, the automaker is on the right track and ready to slap a mean engine between the fenders of the Formula One-inspired Q50 Eau Rouge. The currently unnamed engine could be a high-powered V-8 or twin-turbocharged V-6 with 500-plus horsepower, said Infiniti President Johan de Nysschen, who also stated at the 2014 North American International Auto Show in Detroit that a high-performance Q50 is destined for production.
More 2014 Detroit Auto Show Coverage
What the Q50 Eau Rouge does reveal, however, is the solid foundation already laid in creating a higher-performance sport sedan with the wider, lower, carbon-fiber-infused Eau Rogue.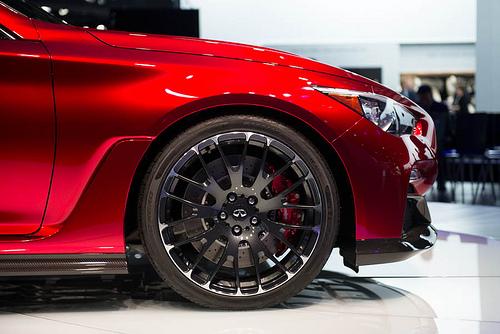 The Q50 Eau Rouge sports a lowered, high-performance suspension and widened track width with subtle fender flares. Intricate carbon-fiber aerodynamic work is wonderfully crafted and does a great job combining F1 inspiration with a functional production-car design.
The wheels, the stance and color couldn't work together any better. A custom coat of Red Candy paint is something you'd see on a custom collector showcar. The Q50 Eau Rouge is a showcar, of course, but everything looks appropriate and in place for a production car. Even the interior's red carbon-fiber highlights look doable, and the grippy steering wheel has touches of red that match the paint and carbon fiber.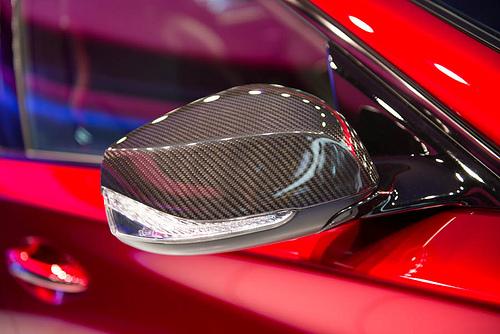 One area that may still be under development is the front seats. Obviously without driving the car it's impossible to say how well they hold your body during a corner, but I was surprised to see so little bottom support of the seats, while the side bolsters are mild, as well.