Most States See Minor Relief at the Pump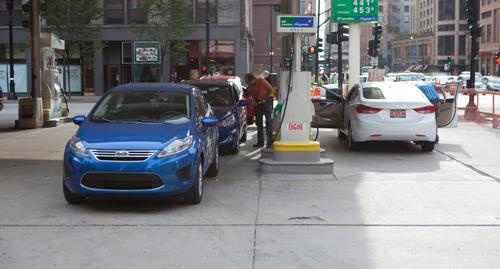 Gas prices fell in most states during the past week, though by only a penny or so in some, according to the AAA Daily Fuel Gauge Report, and the lowest prices for the most part were in the southern half of the country.
Cars.com's Eco-Friendly Car of the Year
The national average of $3.29 for regular unleaded on Thursday was 1 cent less than a week ago, 3 cents higher than a month ago and 3 cents less than a year ago, AAA said.
Pump prices fell 3 cents in the last week in Missouri to an average of $2.99 for a gallon of regular unleaded, the lowest statewide average and the first time any state has dipped below $3 in 2014. Montana had the second lowest average at $3.02, the lone northern state among those with average pump prices of $3.10 or less. The average price in Oklahoma was $3.06; Arkansas and South Carolina were at $3.09; and Mississippi, New Mexico, Tennessee and Texas were within tenths of a cent of $3.10, AAA reported.
Hawaii continued to have the highest prices, a $4.02 average for regular unleaded. Connecticut remained highest among the Lower 48 states at $3.66. Alaska was next at $3.65, followed by New York, $3.64; California, $3.59; and the District of Columbia, $3.55. Motorists saw some relief in California, Connecticut and New York, where average prices fell 3 cents during the last week.
In Minnesota, which had seen prices jump more than 25 cents since mid-December, pump prices fell 4 cents per gallon in the last seven days to $3.19. Prices fell by smaller amounts or leveled off in Indiana, Michigan and Ohio, which also had experienced double-digit increases in recent weeks.
The national average of $3.86 for diesel fuel was unchanged from a week ago and 4 cents less than a year ago.