The Ryno is a Cooler Segway … At Least Until All Those Mall Cops Get One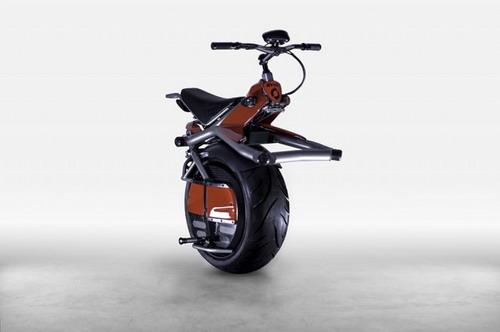 Maybe mall security guards would get more respect if they trolled the food court on Rynos. Wired.com tested the contraption, a sort of love child between a Segway and a unicycle, and it found the motorized unicycle, which uses a Segway-like combination of gyroscopes and accelerometers to effect movement, felt pretty stable. It looks a lot cooler than a Segway, in part because it looks like it should be a lot faster.
Study Shows Fewer Cars, Less Driving in U.S. Cities
It isn't. Maximum speed is 10 mph, and total range is 10 miles after six hours of charging on a 12-volt DC charger, Ryno says. Like on a Segway, you lean forward or backward to move around on the Ryno's 25-inch motorcycle tire, and Wired says it's more intuitive than the vehicle's ungainly stance suggests. With most of its 160 pounds centered low to the ground, the Ryno easily balances on its own, too, Wired says. It parks on rubberized feet that perch beneath the handlebars.
The Ryno — the namesake product from Beaverton, Ore.-based Ryno Motors — starts at $5,295. It takes riders from 100 pounds to 260 pounds, including all cargo. The company, which stands for Ride Your New Opportunity, hatched when CEO Chris Hoffmann's then-13-year-old daughter asked if he could develop something she saw in a video game — essentially a one-wheeled motorcycle. Years later, the company says it will start shipping pre-orders in April, Wired reports. Still, it's unclear how to buy the Ryno. As of today, the pre-order page on Ryno's website wasn't functional.
Update: Ryno told us Tuesday that its website's pre-order page was down because of high traffic. The page has since been restored.