Toyota Improves Camry Crashworthiness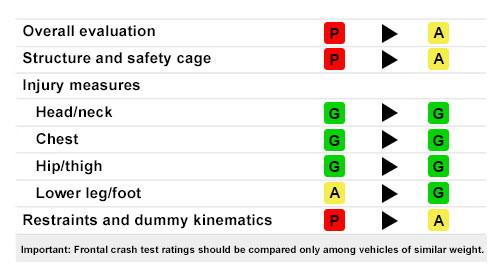 Following a dismal showing by the Toyota Camry in the Insurance Institute for Highway Safety's challenging small-overlap frontal crash test, Toyota has improved the sedan's structural protection to receive an acceptable score in the test. IIHS crash-test scores are poor, marginal, acceptable and good. The latest IIHS small-overlap scores (above) reflect major improvements in the Camry's crash structure, as well as the amount of movement from crash-test dummies during the test.
Toyota Promises Camry Safety Fix
However, the improvements come to 2014 Camry sedans built in mid-December and later. How can you tell them apart? In a rare move — IIHS spokesman Russ Rader said he has "not seen this before" — Toyota said it would label each updated Camry as a 2014.5 model year on its Monroney window sticker.
"Inside the driver door, you could only tell the month of manufacture and not the day," Rader said. "Camrys made from January 2014 forward have the modified front end, but there are also some December vehicles that have the modification. And so consumers can look for the 2014.5 [window-sticker] label for vehicles manufactured in December."
The Camry now qualifies as an IIHS Top Safety Pick — an accolade that requires for 2014 an acceptable or good score in the small-overlap test. The car lacks a forward collision warning system, however, which bars it from IIHS' revamped Top Safety Pick Plus award. The Camry's earlier small-overlap rating earned it a two-month hiatus from Consumer Reports' influential recommended-cars list. In early December, Toyota divisional chief Bill Fay vowed the automaker would right the ship; Rader said IIHS tested the updated Camry around the same time.
Needless to say, Camry shoppers should look for the model-year 2014.5 designation on the window sticker. But it's unclear how many updated sedans are at dealerships today. Two Toyota safety representatives did not respond to our messages.