VW Beetle Dune Concept Car Needs More Dune, Less Beetle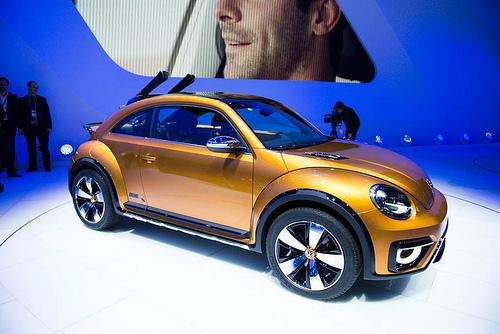 Search for "Beetle dune buggy" online and what pops up are knobby-tire, flared-fender, jacked-up vintage Beetles ready to blow through the top of a dune. The Volkswagen Beetle Dune concept introduced at the 2014 North American International Auto Show in Detroit is a modern "Baja Bug" for the 21st century, though this Beetle Dune doesn't look ready to jump much more than a shallow curb.
More 2014 Detroit Auto Show Coverage
I'm no way an old Beetle enthusiast — they're a die-hard bunch — but this concept goes about 75 percent in the direction of what I'd imagine for a modern dune-buggy concept.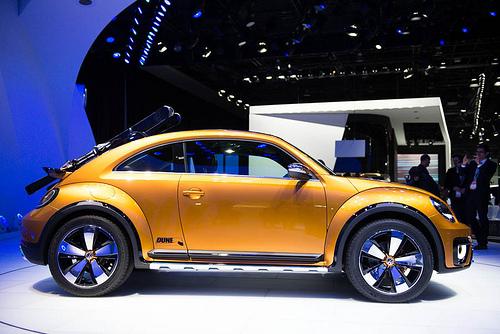 Bonus points go to VW for the additional 2 inches of ground clearance and built-in ski rack, as well as using the 210-horsepower turbocharged Beetle R-Line as a foundation. Gloss-black "blades" surround the wheel arches and widen the body by 2.2 inches, and the front and rear track widths are increased.
Just a little tweaking, though, could have transformed this sunset beach cruiser into a Beetle off-roaders would geek out over. Imagine the Beetle Dune concept with wider fenders, knobbier tires and a huge light bar over the roof. Strap a few gas cans on the back and let's see that Mad-Max Beetle do some damage. But this isn't the old Beetle, and the civility of the new Beetle perhaps is more in line with skiing in Aspen, Colo., or snowboarding in Florence, Ore., as Volkswagen suggests possible with the Beetle Dune concept.