We Bought a 2014 Chevrolet Impala
In late 2012, we purchased our Best of 2013 award winner to see if all the things that made it our favorite car of the year would hold up for an entire year of ownership. The 2013 Subaru BR-Z certainly did that for most of our editors. This year, the redesigned Chevrolet Impala won over our hearts and that meant it was time to hit the lots and buy one.
Cars.com Names Chevrolet Impala Best of 2014
Most of our long-term fleet purchases have been of "in-demand" or very new vehicles with only our current 2013 Honda Civic really allowing us to chase deals, haggle and commence with all the other tactics that can go into buying a new car. Buying an Impala was similar to the Civic in some regards, but we ended up with only one major hassle.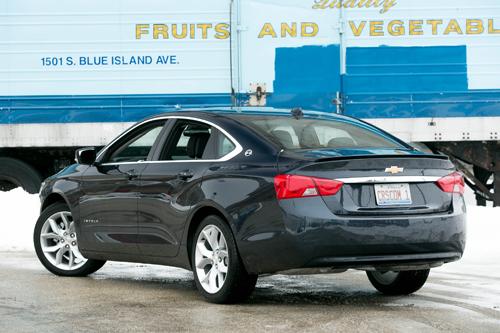 A car color is an important consideration for new-car shoppers. For us as an automotive site, it's less important of course, but we still like what we like. After some quick discussions, the team decided on Blue Topaz Metallic, a bright blue (shown below in a lesser trim), as the color we wanted.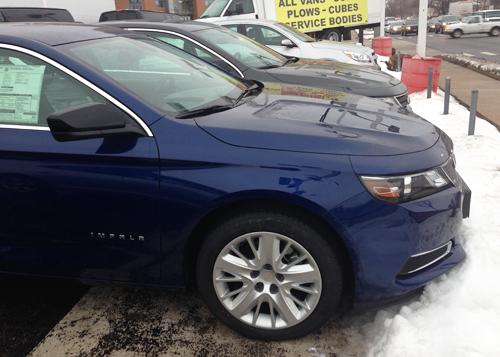 The problem? There weren't many in local inventories. We were hunting for a fully loaded 2LT model versus an LTZ model, but there were few of either trim in stock in this color around Chicago and its suburbs, a large sample size.
Both trim levels are popular, according to Cars.com's new-car inventory.
We began our search on Cars.com, of course, and found a dealer in the suburbs with a car that seemed to match the options we wanted and in Blue Topaz Metallic.
We contacted the dealer and set up a time to meet and test-drive.
Before heading in, we already had received a "low-price offer."
Upon arrival, there was a car waiting for us and everything ran smoothly. Except the car they had prepared wasn't Blue Topaz Metallic; it was Blue Ray Metallic, aka dark blue. Turns out there were no Blue Topaz 2LTs on their lot, so we tested the Blue Ray, somewhat disappointed.
$38,000 Full-Size Sedan Challenge
The car drove well and then it was back to the showroom to figure out if we could get the color or options we wanted, and a good price to boot.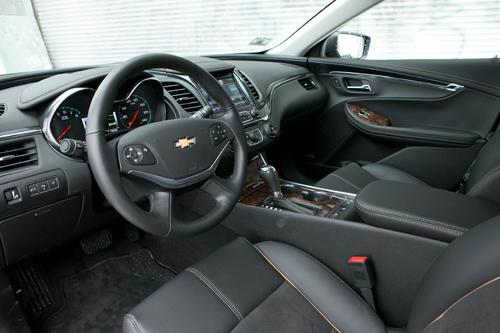 When we discussed getting the car we wanted from another dealer, we were unsure whether we'd be getting what we wanted, even if the exterior was the right shade of blue. So when our salesman and sales manager offered us the best price they could give of "$32,415" — nearly 10% off the MSRP — they asked if it was enough to seal the deal. It was slightly lower than the price we had been quoted before we showed up at the dealership.
We said no and left. We spent slightly more than an hour at the dealership from the time we walked in to the time we walked out, which wasn't bad, considering the test-drive and trying to figure out whether it was the car we actually wanted and if we could find one in their system. (All prices mentioned here include destination charges.)
A few other online quotes arrived in our email inboxes with similar discounts on the Impala, surprising many of us.
The next week, we contacted another large volume Chevy dealer via an online chat to see if they had a Blue Topaz Metallic 2LT with all the options, including a power sunroof that the first Impala did not have. Again, we were confronted with Blue Ray instead. We were quoted a price of $32,225 before we left the office. The MSRP with all the options and destination was $37,070. The invoice price $34,975.
Again, that was a discount of 13% from MSRP and nearly 8% from invoice.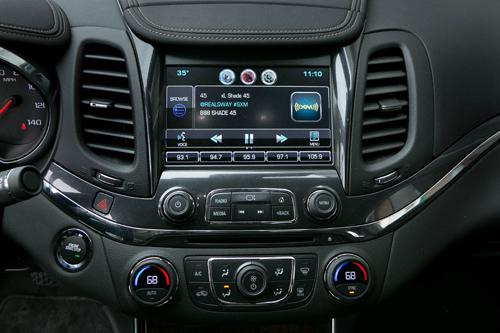 This time we were prepared to buy, and we had two people visit the dealership. One was the editor who had done the research, contacted the dealer and gotten the deal and the other was the Editor-in-Chief Patrick Olsen, who brought with him the deposit money.
We only told the salesman that it was going to be a company car — neither of the salesmen we met in person at either dealership asked what we did for a living, where we worked or what kind of driving we did. During a short wait for Olsen to arrive, the salesman wouldn't discuss a better price on the car or anything about the deal with our first editor who had handled all the negotiations up to that point.
However, the salesman was friendly to both editors during this visit and quick test drive of the Blue Ray 2LT.
There was no budging off the $32,225 price, however, even after the "decision maker" had arrived.
We agreed to the price, but working the final numbers turned out to be a little wonky.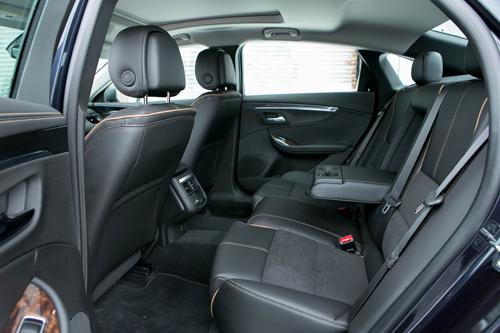 The salesman showed us a sheet with the agreed-upon purchase price, a $1,000 rebate, sales tax, county tax, document fee, etc., but when we brought out our calculator, the numbers didn't add up to the dealer's total. Eventually, we found ourselves only $15 apart, and the salesman worked his numbers to match our calculator's math.
Then we put down a deposit on the car, and the salesman brought back the original price sheet — the one with the wrong total amount. We caught the error, and we finally signed off on the correct amount and paid our deposit.
We came back a week later with a check from our corporate parent, and the actual purchase process took about an hour. We weren't clear on why, since they had known for a week that we were coming. Once we finally got in to see the finance person, it was about 15 minutes of providing and signing documents, and we were on our way.
Our Impala has every major option available for the 2LT: Convenience Package, Premium Audio and Sport Wheels Package, navigation, Premium Seating Package and Advanced Safety Package. The $6,175 in extras, including wheel locks, brought the $37,070 MSRP into the Impala's premier LTZ trim level territory; a V-6 LTZ costs $36,715. The LTZ's standard equipment looks very much like our loaded 2LT with the advanced safety features, keyless access, remote start, backup camera, heated seats, 19-inch wheels and more.
The top LTZ trim level, however, gets LED daytime running lamps, full leather interior, chrome door handles, high-intensity-discharge headlights and stainless-steel dual exhaust tips, which are features our 2LT doesn't have. So why stick with the 2LT and not upgrade to the LTZ?
The LTZ's base price doesn't include navigation. Navigation isn't an expensive option by itself ($795), but choosing nav requires checking two packages that bring the tally to $39,245 at minimum, which is a pricey jump from our loaded 2LT.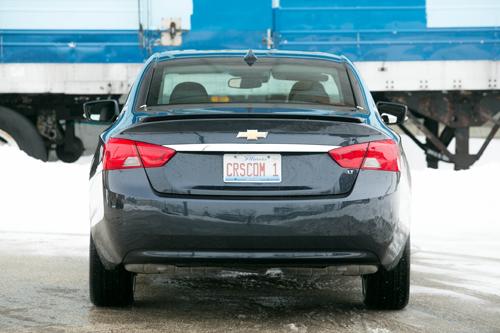 There are options only available on the LTZ, including adaptive cruise control, ventilated seats, a power tilt/telescoping steering wheel, memory seating and a heated steering wheel. We didn't feel those were worth an additional $2,000, though.
Our 2014 Chevrolet Impala has already made one road trip — to Detroit for our Best of 2014 Awards show last week. We'll have detailed coverage of the Impala throughout the year.
If there are any specific questions you want answered about living with an Impala, let us know in the comment section below and we'll try to document it for you.
Cars.com Editor-in-Chief Patrick Olsen and Road Test Editor Joe Bruzek contributed to this story. Photos by Evan Sears and Joe Bruzek.