What Drives Gen Y? New Study Sheds Light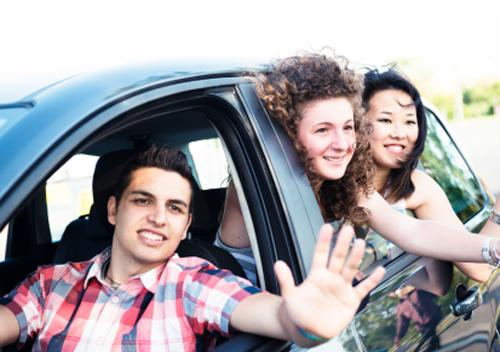 New findings from New York-based Deloitte LLC debunk a notion held in recent years that young people don't want to drive anymore. Generation Y — born from 1977 to 1994 — are more than 80 million strong, said Craig Griffi, Deloitte vice chairman and automotive practice leader. Nearly 50 million of them plan to buy a new or used car in the next three years.
Younger Generations Place Higher Value on Car Tech
"There's been a lot of conjecture about whether Gen-Yers even like driving," Griffi said. But Deloitte found nearly two-thirds of Gen Y Americans "would indicate that they love their cars." Nearly 700 Gen-Y-age Americans participated in Deloitte's survey, which encompassed more than 23,000 respondents across 19 countries. The company will release full results later this year, but it disclosed some findings Thursday on a group that automakers have spent years trying to understand.
To be sure, Deloitte notes some of America's car culture has been lost. Gen Y faces three barriers to vehicle shopping: needs being met by other transportation like walking, mass transit and car-sharing programs; operational costs such as fuel and maintenance; and vehicle affordability.
Start with the first one. More than two-thirds of Gen Y consumers "would prefer to live in neighborhoods with everything in walking distance," Griffi said. Given rising traffic congestion, that isn't necessarily a problem, but "obviously the vehicle starts to become less important," he added.
Unless it drives itself. A high percentage Gen Y consumers view self- driving cars — anathema to performance enthusiasts, but an inexorable goal for the auto industry — as a big benefit, said Joe Vitale, who leads Deloitte's global automotive sector.
That doesn't mean Gen Y wants to abandon wheels altogether. Just 29 percent said they'd be willing to give up their personal cars for other forms of mobility, Deloitte notes. Semi-autonomous technologies that help drivers avoid accidents score big with the group. Some four-fifths of respondents rated technology that helps the vehicle avoid crashes as very important, Vitale said.
If alternative transportation plays against automotive appeal, at least the way cars are sold does not. Gen Y doesn't loathe the showroom like other consumers do. Deloitte found that 41 percent of the group indicated a positive attitude toward car dealers, which is nearly double the average for other generations. Two in five Gen Y consumers say a salesperson has a "major or significant impact" on their purchase, Deloitte said. And just over half of the respondents said automakers' websites have the same influence. Both areas reflect significant increases versus the impact for other consumers: "They are much more positive and excited about going to the dealer," Vitale said.
Tech, Hybrids
Gen Y wants connectivity, too — no surprise — but specifically individualization. Fifty-seven percent of survey respondents said they wished it was easier to customize vehicle technology after driving off the lot, Deloitte said. Some high-end automakers push the limits on customizability (think Tesla's wireless updates) but even today's economy cars offer some level of it, from internet radio apps to streaming navigation. Still, more than half of Gen Y consumers wish dashboard screens enabled all apps on their smartphones — an unlikely prospect for safety reasons.
Gas mileage, meanwhile, accounts for a big chunk of the operational-costs barrier. Toward that end, Deloitte's results suggest Gen Y wants hybrids; more than a quarter of respondents named hybrids "as their single most preferred type of alternative engine."
That far outpaced the preference for plug-in hybrids and totally electric vehicles, which all but require at-home charging stations. That could be a problem for Gen Y, which disproportionately prefers city living. The age group reportedly totals 27 percent of the U.S. population, but New York City projects that in 2015, people ages 20 to 39 — in essence, Gen Y — would account for 32 percent of its five boroughs. It's just a snapshot of an uphill battle for plug-in appeal. A 2013 Carnegie Mellon study found that less than half of U.S. households have parking near an outlet.
The Final Barrier
There's still one barrier left: affordability. Cars have become pricier by the year. The average new car sold for $32,900 in early December 2013, according to CNW Marketing Research. That's up $882 versus December 2012 and a whopping $4,410 over December 2010. It doesn't play well for a group whose youngest members — 20-to-24 year olds — saw nearly double the U.S. workforce unemployment rate last year.
You'd think that pushes Gen Y headlong toward the used-car market, but not necessarily. Deloitte spokesman John Rucket told us it's a "statistical dead- heat" between the chunk of Gen Y consumers who own new cars and those who own used cars. Vitale said it's "truly a value question. When you look at it, obviously a majority of Gen Y will purchase a used vehicle over a new vehicle."
But the traditional used-car draw among young shoppers — getting an upmarket used model with more features and technology over a bargain-basement new car – has eroded. "What's happening is that because the rate of change of new technology, whether it's for safety or infotainment in terms of connectivity … [technology is] now ubiquitous," Vitale said. "We're starting to see a higher level of interest in new versus used."