2014 Toyota Tundra's Center Console Swallows Purse and More
The 2014 Toyota Tundra is a roomy half-ton pickup truck, especially when equipped with the larger CrewMax cab. It offers fantastic passenger space, with 42.3 inches of rear legroom and places to put all of my kids' stuff that I haul around on a daily basis. Although roominess isn't unusual in a pickup of this size, the Tundra has a standout feature that makes me especially happy: its center console.
2014 Toyota Tundra: Family Review Checklist
The console is cavernous, and its lid is put to work with molded plastic spaces for pencils, papers and even a holder for a travel pack of tissues. As fantastic as all the features-within-a-feature are, there's no getting around that I love how big the console is because I can fit my purse in there.
Stashing my purse in the console solves my problem of where to put it in any car. I can put it in the front passenger seat, but that doesn't work when someone is sitting there. There's always the backseat, but I never put my purse there because it's out of reach. I love not having to put it on the floor of either row where it and all its contents will surely get stepped on. Additionally, this time of year is so mucky, dirty and wet, I'd rather not put my purse on the floor.
There's another bonus to the Tundra's gigantic console. Even with my purse in there, I could fit other things in the console: a sweatshirt, miscellaneous detritus, mail, magazines and baby wipes. It's such an accommodating space that I could fit a reusable shopping bag in it, too. How perfect to find such a family-friendly feature in the Tundra.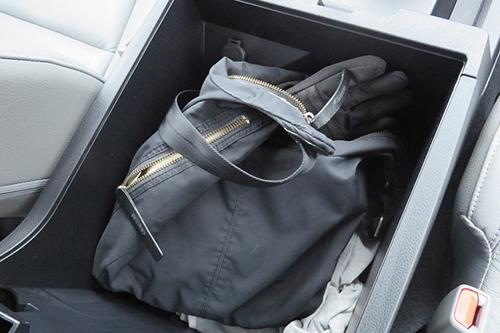 Cars.com photos by Sara Lacey