2014 Lexus LX 570 Real-World Cargo Space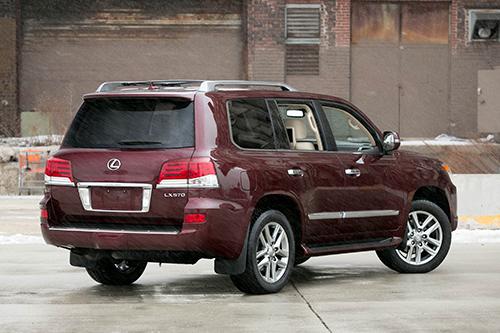 There are full-size SUVs — like the crossover Chevrolet Traverse — and then there are FULL-size SUVs. The 2014 Lexus LX 570 is the latter, built on a towering trucklike body-on-frame chassis with genuine four-wheel-drive hardware underneath. Loading cargo into the LX 570 isn't as cumbersome as it could be because the high-riding SUV has a standard height-adjustable air suspension with the capability to automatically lower the vehicle when the ignition is turned off.
Research the 2014 Lexus LX 570
The cargo area is unique in some ways and dated in others: Each side of the 50/50-split third-row power seat folds up to the side of the cargo area to expose the maximum cargo area. Unfortunately, the side-folding rear seats take up a lot of the cargo area's width. The LX 570's clamshell tailgate and tumble-forward second row are lesser-used styles among big luxury SUVs.
Competitors including Infiniti QX80 and Mercedes GL-Class have power-operated liftgates, flat-folding second and third rows and more maximum cargo room. The LX 570's 83.1 cubic feet of maximum cargo room falls short of the QX80 and GL-Class with 95.1 cubic feet and 93.8 cubic feet, respectively. See our cargo animations to check out the LX 570's unusual approach to cargo management.
Cars.com photos by Evan Sears