2015 Kia K900 First Drive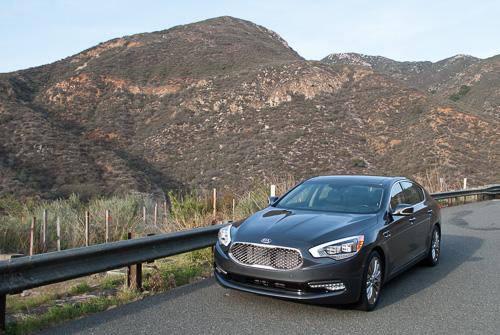 Can Kia build a rear-wheel-drive luxury sedan that people will actually cross-shop with the established players? That's what an epic Super Bowl commercial tried to sell people on a few weeks ago, and we had a chance to take the red pill and spend a day piloting Kia's new 2015 K900 premium luxury full-size sedan to see just how deep the rabbit hole really goes.
Kia hosted this drive event in a location befitting a premium status: Newport Beach, Calif. From there, we wound down the Pacific coast and inland through parts of Southern California's wine country, which gave us a solid mix of highways and city streets as well as canyons to get a good feel for the K900's merits.
Kia plans to offer a V-6 and V-8 version of the K900, but only the V-8 will be available at launch this March. Its starting price is $60,400, including a destination charge. Our V-8 tester was also equipped with the VIP Package, which pushed the sticker price up to $66,400.
The K900 certainly looks the part of a luxury sedan — minus the kitschy portholes on either side. V-8 models feature adaptive LED headlights that are designed to mimic natural light. The element housings each fit four LEDs inside them and have a 12-degree range of motion for better illumination around dark corners.
Under the hood of our tester was a 5.0-liter V-8 that makes 420 horsepower along with 376 pounds-feet of torque. It is mated to Kia's first eight-speed automatic transmission, which curiously comes without paddle shifters in the K900. Instead of adopting the air suspension from the Hyundai Equus, Kia elected to go with a fully independent front and rear multilink setup. The company indicated that it was able to hit its ride and comfort goals without the air suspension; it also offers a simpler setup for easier maintenance and keeps the car's price down. I had no qualms with this decision; ride quality was excellent even over broken pavement, and the big sedan glides down the highway with nonchalance.
Kia representatives were careful to stay away from describing the K900 as "sporty" and with good reason — the K900 goes for comfort all the way.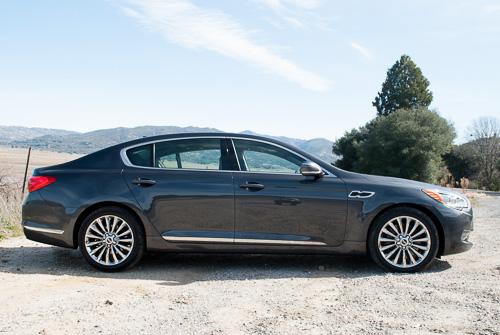 On curvier roads, body roll was noticeable, especially when making quick steering changes. The V-8 prioritizes even power delivery over quickness, which means you have to work a little harder to find the engine's sweet spot, but I was never left wanting for more oomph. The K900 is no lightweight at 4,555 pounds, but the V-8 never really felt taxed. Four different selectable drive modes — Normal, Sport, Eco and Snow — are offered.
Kia engineers said cabin isolation was a focus for the K900. Wind and road noise is reduced by adding a full belly pan on the underbody, extra insulation and laminated front and side windows. While the K900 wasn't the quietest car we've been in, noises were muffled enough inside that conversations could easily be had between front and rear passengers, even at highway speeds.
When the K900 debuted at the 2013 Los Angeles Auto Show, one of our editors noted that it "still doesn't quite 'feel' like a luxury car," and after a day with the production version, that perception hasn't changed.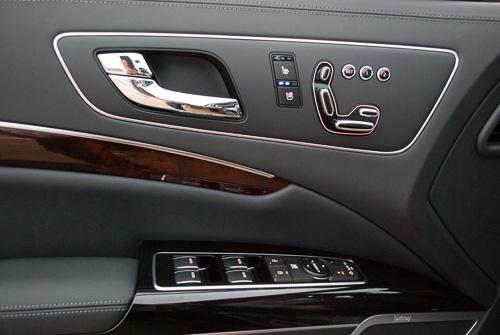 All of the traditional touch points in the car are covered in leather or soft materials, but the devil is in the details and that's where the K900 falls short with silver-colored plastic trim pieces where you'd expect to find something more upscale. The plastic multimedia controller also feels flimsy; a more substantial controller would have fit in better for this class.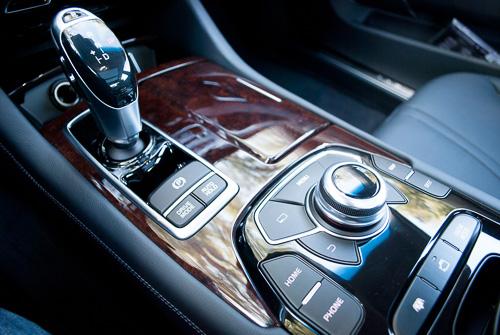 The added tech from the VIP Package was impressive, particularly the head-up display. It is easily visible in bright sunlight, with customizable display options including navigation directions, blind spot warning, smart cruise control settings and your speed. If you wear polarized sunglasses, the display isn't visible.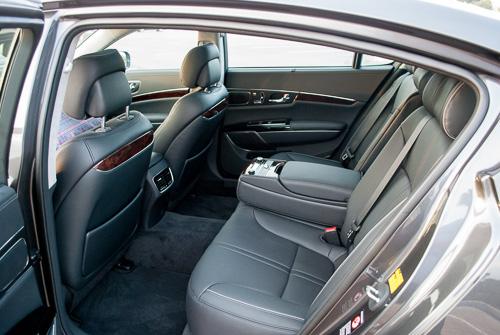 The backseat is comfortable and spacious with more than 38.2 inches of legroom and an almost equal amount of headroom. In fact, the second-row accommodations were so nice that for a few legs of the drive, I elected to sit in the backseat instead of the front passenger seat. The Rear Seat VIP Package, which is part of the VIP Package, adds rear climate controls, power reclining and ventilated rear seats with power lumbar support, and a convenient USB charging port in the center armrest, a helpful addition in our gadget-happy culture.
Kia knows the checkered history of non-luxury carmakers trying to break into this segment — the Volkswagen Phaeton comes to mind. But the K900's purpose isn't solely to bring a luxury car to market at a non-luxury price. No, Kia is interested in changing its brand perception. Its success won't be in sales; it will be in people walking by the K900 in showrooms, taking pause and slowly changing their impression of the brand.
While Kia has built a fine, comfortable luxury sedan with incredible technology and a lot of bang for the buck, the big issue still remains: Would someone pay more than $60,000 for a Kia? The answer for most will be "probably not." But the fact that I drove the K900 and think that it's still worth the price tag might be the real win for Kia.
Cars.com photos by Brian Wong