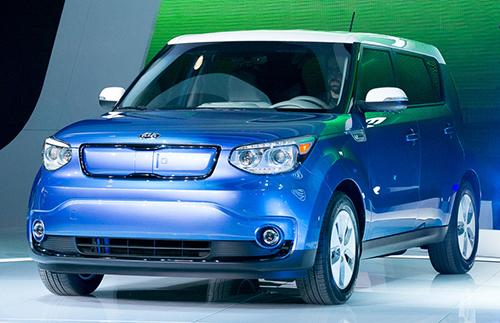 You don't have to live in California, Oregon, New York, New Jersey or Maryland to get a look at the 2015 Kia Soul EV, the Korean automaker's first foray into the all-electric-vehicle market. While those coastal states will be the only places you can buy one when it first goes on sale in limited quantities this summer, the zero-emissions hatchback is making its debut this week at the 2014 Chicago Auto Show. Truth be told, it doesn't look drastically different — inside or out — from the standard Soul, save for a blocked-out grille opening where charging ports are hidden, 16-inch wheels and a Mini Cooper-esque two-tone paint scheme, as well as handful of EV-specific interior flourishes.
More 2014 Chicago Auto Show Coverage
Under the hood, however, the Soul EV couldn't be more different. It runs on an 81.4-kilowatt, 109-horsepower electric motor that drives the front wheels through a single-speed transmission. The battery is a 27-kilowatt-hour, air-cooled lithium-ion battery pack that provides 80 to 100 miles of range under normal conditions and powers the vehicle from zero to 60 mph in less than 12 seconds on its way to a top speed of 90 mph.
Check out the gallery below. Cars.com photos by Evan Sears.