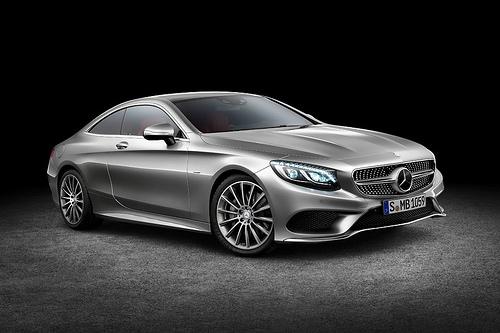 Competes with: Bentley Continental GT, BMW 6 Series
Looks like: A large, handsome CLA-Class coupe
Powertrains: 449-hp, twin-turbocharged 4.7-liter V-8, standard all-wheel drive
Hits dealerships: Fall 2014
Mercedes-Benz has given the world a sneak peek at its new S-Class Coupe ahead of its debut at the 2014 Geneva International Motor Show. The long, swoopy two-door is based on the company's S-Class sedan, which was introduced in 2013, but shares no sheet metal with the big four-door. Previewed by the S-Class Coupe Concept shown initially at the 2013 Frankfurt Motor Show, the new coupe is remarkably similar to the concept in its production form.
Exterior
The swoopy, massive-shouldered look of the S-Class Coupe gives it extraordinary presence. It's easily identifiable as part of Mercedes-Benz' new aerodynamic flowing look, but still elegant and formal enough to fit into the S-Class model lineup. Out front, the look is similar to the CLA- and C-Class models, but the coupe wears an optional LED headlight treatment for the initial special edition that features 47 Swarovski crystals in each headlight assembly for a truly jeweled appearance. Seventeen flare-shaped crystals comprise the daytime running lamps, while 30 more round crystals make up the turn indicator lamps. It looks as if the headlights were pulled directly from a concept car, but they will be available for production models.
Long doors extend back to pillarless side windows, as has been the norm for the big Mercedes-Benz coupes in recent years, finishing off at a high tail that incorporates much thinner, racier taillights than Mercedes-Benz has used on its models in years. The roof of the car is almost entirely glass and is nearly 150 percent larger than the previous panoramic roof. Mercedes-Benz' Magic Sky Control is standard; it's a system that can turn the glass from transparent to opaque at the push of a button. A rolling shade that completely blocks out the sun is also present. The overall look is sporty yet elegant, communicating power and wealth but in a different way than the more stately S-Class sedan.
Interior
Inside is where things get dramatic. With just two doors, a car this big has a lot of real estate to fill, and Mercedes-Benz does so with huge swaths of wood and leather. The cabin is unique from the S-Class sedan, carrying over some functions and shapes, but featuring what looks like a lower dashboard and a podlike design running from door to door instead of the sedan's smooth, one-piece swept look. As in the sedan, the gauges are completely digital and situated on two enormous screens side by side in front of the driver. The functions of the audio, navigation and other information systems are done via a standard touchpad in the center armrest.
A new head-up display is also standard and may be one of the most advanced to date. The display uses high-powered LEDs to project an 8-inch by 3-inch floating display in front of the driver. With resolution of 480 by 240 pixels and 60 pixels per degree of viewing angle and full color capability, it should be quite extraordinary to behold. An ambient light sensor even automatically adjusts the brightness of the display to provide maximum visibility in different lighting conditions.
All of the top high-end luxury appointments will be available including a Burmester sound system with optional 3-D imaging capability, several choices of interior color (including the stunning Bengal Red that's pictured) and a unique steering wheel that is decidedly better looking than the "smiley face" seen on the S-Class sedan. The new S-Class Coupe's interior is opulent and extravagant, likely matching the coupe's sticker price.
Under the Hood
For the U.S., one powertrain will be available at launch: a twin-turbocharged 4.7-liter V-8 engine making 449 horsepower and 516 pounds-feet of torque. The only configuration will be with 4Matic all-wheel drive, but there's no mention of what transmission will be used. The S-Class sedan uses a seven-speed automatic transmission with this engine, and there's no reason to think the coupe won't as well. Keep your ears open — the S-Class Coupe uses an exhaust system with flaps that adjust the sound under full throttle for a more powerful and aggressive note.
More unique will be the coupe's curve tilting function, a new feature for the car's Active Body Control system. Using cameras and accelerometers, the car can actually lean into corners like a motorcycle, aiming to provide a more comfortable ride for passengers. It conceptually seems an extension of the adaptive seats Mercedes-Benz uses, which bolster the seats in reaction to changing direction. Mercedes-Benz says that the system is able to tilt the car up to 2.5 degrees, works from 19 to 112 mph and is most effective on twisty country roads.
Safety
Just like the sedan, the S-Class coupe will feature a complete array of safety systems, autonomous functions and electronic aids. Blind spot assist with cross- traffic alert, automatic distance cruise control, an automatic collision avoidance system with braking function, lane keep assist, automatic high beams, a night vision system and much, much more are available.
No pricing has yet been announced for the new S550 Coupe, but sales are set to begin in the U.S. this fall.
Manufacturer images