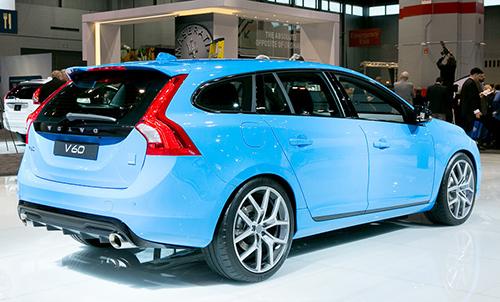 It's still not the Antartic Blue sports wagon the Griswolds were supposed to get instead of the Metallic Pea Wagon Queen Family Truckster, but the Rebel Blue-colored 2015 Volvo V60 Polestar now appearing at the 2014 Chicago Auto Show could've gotten the family from the Windy City to Wally World a heck of a lot faster. The high-performance variant of the luxury-brand wagon has a turbocharged six-cylinder engine that makes 345 horsepower and sprints from zero to 60 mph in 4.7 seconds, great for blowing past lame roadside attractions and annoying cousins' houses.
More 2014 Chicago Auto Show Coverage
To match its performance theme, the V60 Polestar has aerodynamic enhancements including new front and rear splitters for increased down force, as well as 20-inch wheels and a new rear spoiler and diffuser to streamline airflow. Only a small number of the wagons are expected to be available in the U.S. this summer, so interested buyers might want to plan their cross-country vacation accordingly. Check out the gallery below; Cars.com photos by Evan Sears.