Audi Gives Glimpse of 2015 TT
Audi's iconic TT sports car is about to get an update, which will be revealed to the world at the upcoming 2014 Geneva International Motor Show in March, and the company is teasing fans with some sketches of the new coupe. Mechanical details are still forthcoming, but visually, the car doesn't differ too much from the current model. Its squat, rounded shape has a similar silhouette to the current model, but there's a more pronounced horizontal emphasis on the front and rear ends.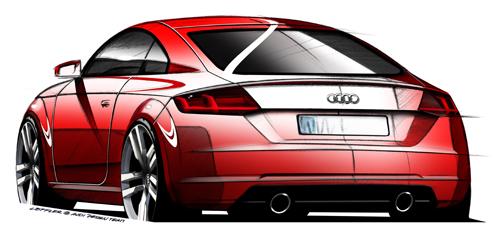 Up front, a trapezoidal grille opening and angular headlights give the new TT an almost Ford-like look, while the character line stretches from the lights alongside the car to the taillights out back. Those taillights will now feature a permanently on running lamp "strut," according to the manufacturer. Audi says this is new and exclusive to the brand. The taillight treatment looks fairly similar to what Lamborghini has been doing lately; that's not surprising given that Audi owns the Italian supercar-maker.
Look for the car to make its appearance in the sheet metal at the Geneva show, which opens to the press on March 4.
Manufacturer images