Do You Need an All-Wheel-Drive Minivan?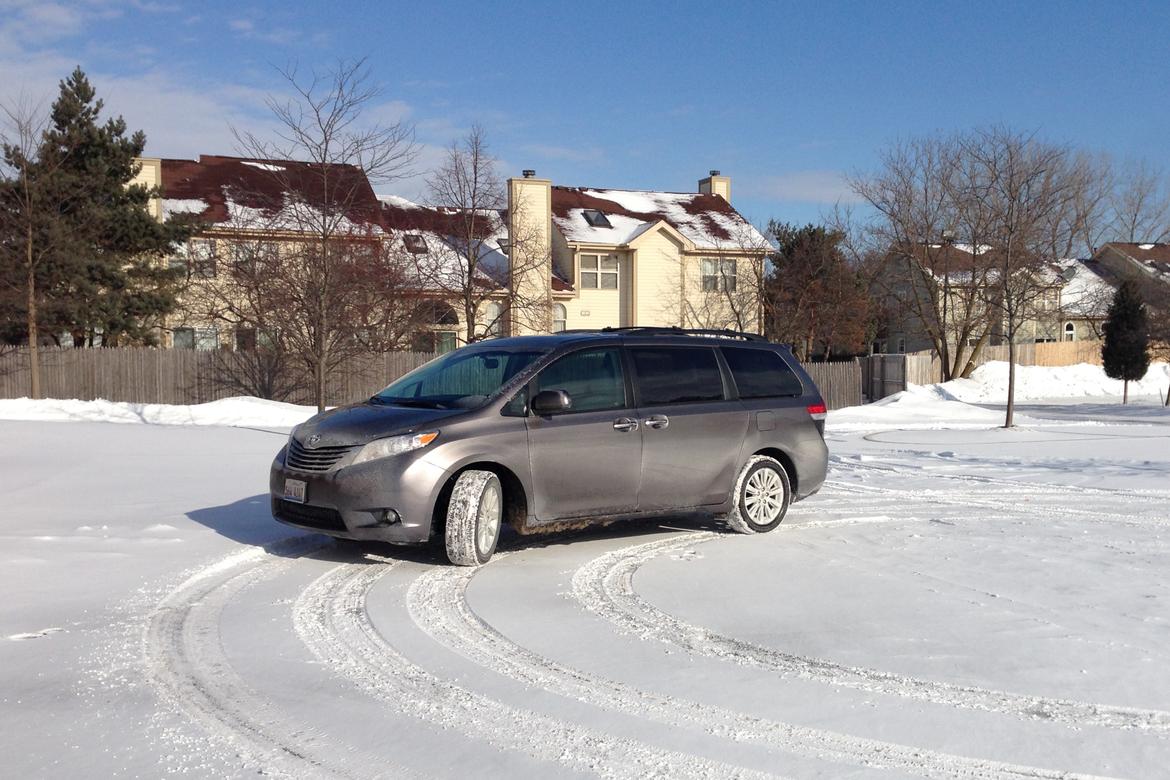 CARS.COM — The main mission of a minivan is to haul people, more so than even the more popular SUVs that account for more than 30 percent of new-vehicle sales.
Yet, whereas more than half of SUVs are equipped with all- or four-wheel drive, Toyota stands alone among minivan manufacturers in offering all-wheel drive, which is installed on about 17 percent of Siennas sold in the U.S. In contrast, about 60 percent of Toyota Highlander SUVs are equipped with all-wheel drive.
Related: More Minivan Coverage
That percentage apparently is enough to satisfy the bean counters at Toyota, which has the all-wheel-drive minivan niche all to itself; the Sienna's main rivals seem to be in no hurry to try to crash that party.
Todd Breneiser, product planning director for the Chrysler Group, said Chrysler's minivan owners aren't clamoring for all-wheel drive. Chrysler offered all-wheel drive on its minivans starting in 1991 but dropped it in 2004 because the rear drive shafts interfered with the then-new Stow 'n Go seats that fold into the floor.
"There's a vocal minority that would really like to have the all-wheel drive, and that's in the same parts of the country where we see the high take rates for other all-wheel-drive vehicles, but for the general population, I wouldn't say it's in high demand," Breneiser said in a telephone interview.
"Every year we go out and we do research about what customers like about the vehicle, what they don't like. Our customers continue to return to us, and we don't have all-wheel drive," he added.
With front-wheel drive, minivans are well equipped to handle at least moderate amounts of snow, Breneiser said, and winter tires can improve traction, so all-wheel drive isn't a must for most drivers.
Cars.com Executive Editor Joe Wiesenfelder agrees that all-wheel drive, though good to have, may not be necessary.
"My way of thinking for Chicago has long been that it's usually unnecessary, especially versus front-wheel drive, but that's because we have decent snow removal and practically no hills. I'm more likely to say go for all-wheel drive to people who have hills or inadequate snow removal," Wiesenfelder said, adding, "Here in Chicago, it's the difference between getting around at all in one or two storms a year, and getting around a bit easier the rest of the season."
"I tested a 2014 Sienna with all-wheel drive during some of this year's worst weather," Cars.com Managing Editor David Thomas said. "I was impressed by how much traction I was getting from a standing stop on ice- and snow-packed roads. The Sienna just didn't slip. I drove a Dodge Grand Caravan in similar weather weeks before and it got me home, but it didn't have that grip."
Wiesenfelder noted that all-wheel-drive Siennas come with run-flat tires, which are more expensive to replace than conventional tires, and no spare tire.
In addition, all-wheel-drive versions of the Sienna lose the center seat in the second row and the second-row tip feature (though the seats still slide), and have a seven-passenger capacity. Cargo capacity is unchanged on all-wheel-drive models. Fuel economy is also lower for all-wheel-drive models versus front-wheel drive.
Chrysler created the modern minivan in 1984 and, as it marked its 30th year of minivan production, it continued to lead the industry in sales by a wide margin.
Combined sales of the Chrysler Town & Country and Dodge Grand Caravan were 246,307 in 2013. Among other major players, Honda sold 128,987 Odysseys (making it the top-selling individual model), and Toyota sold 121,117 Siennas.
Honda spokesman Chris Martin said dealers in snowy sections of the country continue to ask for an all-wheel-drive minivan, but he noted that the Odyssey outsells the Sienna without it.
With Honda's SUVs, the Pilot and CR-V, all-wheel drive is an essential ingredient, accounting for about 65 percent of the mix. With the Odyssey, Honda doesn't want to mess with success.
"When you add AWD to a model, it affects packaging and fuel efficiency, two of the Odyssey's great strengths versus the competition," Martin said in an email message. Automakers can change their minds, but Chrysler's Breneiser didn't sound like someone who is losing sleep over the current situation.
"There are customers who do want it, and we continue to monitor that, but for the vast majority of minivan buyers across all manufacturers, that's not the loudest voice," he said.
At this time, the Toyota Sienna remains the only minivan wearing an AWD badge. Vehicles like the Chrysler Pacifica, Honda Odyssey, and Kia Sedona are still front-wheel drive only, keeping the bump in fuel economy and seat configuration options afforded by not being all-wheel drive. Drivers of those vehicles can add winter tires to their van if they're really concerned about winter traction.
For shoppers looking for a vehicle that can seat 7 and drive all four wheels at once, options outside of a Toyota minivan include large, truck-based SUVs like the Ford Expedition and Chevrolet Tahoe or Suburban; crossover SUVs like the Chevrolet Traverse, Ford Explorer, Honda Pilot and Toyota Highlander also have third-row seats. We even liked the Volkswagen Atlas so much we bought one and named it our Best of 2018 winner.
Cars.com's Editorial department is your source for automotive news and reviews. In line with Cars.com's long-standing ethics policy, editors and reviewers don't accept gifts or free trips from automakers. The Editorial department is independent of Cars.com's advertising, sales and sponsored content departments.