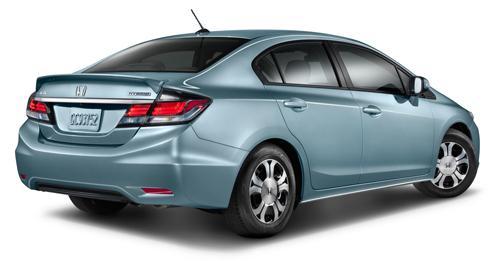 After a 2013 refresh, model-year 2014 is not starting quietly for Honda's compact car. An updated coupe joined the Civic lineup this year, and both body styles got a host of new features. But wait, there's more. Honda announced Tuesday that the Civic hybrid's fuel economy is improved for 2014.

Honda Announces New Display and Connectivity Systems

The model now gets an EPA-estimated 44/47/45 city/highway/combined mpg rating, up from the 2013 version's 44/44/44 rating. The hybrid's powertrain carries over this year, a 90-horsepower 1.5-liter four-cylinder engine and continuously variable automatic transmission.

"A combination of factors contributed to the improved 2014 Civic Hybrid highway fuel economy. Improved aerodynamics, upgraded parts (fuel pump, ignition coil) and tuning changes (engine sensors and regenerative braking) all contributed," said Jessica Fini of Honda public relations in an email.

The 2014 Honda Civic Hybrid goes on sale at dealerships Wednesday, starting at $25,425, only slightly higher than the outgoing hybrid sedan's base price ($25,150); all prices include a $790 destination fee.

Editor's note: This post was updated on Feb. 4 to include comments from Honda.