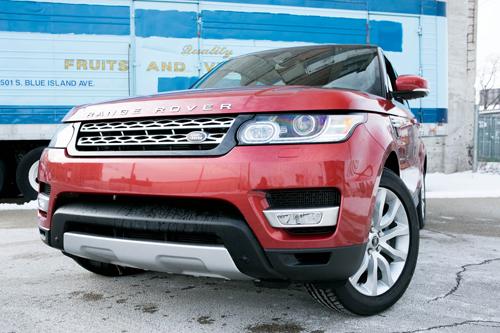 As automakers report their total January sales today, many point to the polar temperatures seen in much of the country as a reason for subpar results. While the totals may be down, there were still plenty of cars selling quickly — coincidentally enough, many with all-wheel drive.
Twelve of the 18 fastest-selling cars either come standard with all-wheel drive or have it widely available. Although Wall Street had a bad January, perhaps some 2013 bonus checks helped brands like Land Rover, which had the top two spots on the fastest-selling list. Mercedes-Benz's redesigned and nearly six-figure S550 also made the list.
The average number of days to sell a car increased to nearly 42 days. That's up from 35 in December, but just a slight tick up from January 2013's 40-day figure.
Some of the slowest-selling cars in January included sports cars like Jaguar's new F-Type convertible as well as Nissan's all-wheel-drive GT-R. But the new Chevrolet Corvette Stingray is still selling briskly no matter the weather, so no excuses can be given here.
Likewise redesigned models such as the Acura RLX and Mitsubishi Outlander are stagnating on dealer lots.
Here are the lists of the fastest and slowest sellers along with some of our picks for slow-sellers that deserve a closer look from car shoppers.
January's Movers
2014 Land Rover Range Rover: 7 days
2014 Land Rover Range Rover Sport: 10 days
2014 Toyota Highlander: 10 days
2014 Toyota Prius Plug-In: 10 days
2014 BMW X5: 11 days
2014 Land Rover LR4: 11 days
2014 Chevrolet Corvette Stingray convertible: 12 days
2014 Hyundai Elantra: 13 days
2014 Mercedes-Benz CLA250: 13 days
2014 Subaru Forester: 13 days
2104 Lexus GX 460: 14 days
2014 Audi Q5: 15 days
2014 Mercedes-Benz S550: 15 days
2014 Subaru Impreza: 16 days
2014 Subaru XV Crosstrek: 16 days
2014 Chevrolet Corvette Stingray coupe: 17 days
2014 Nissan Rogue: 17 days
2014 Toyota RAV4: 17 days
January's Losers
2014 Nissan GT-R: 199 days
2014 Kia Sedona: 119 days
2014 Jaguar XKR: 112 days
2014 Chevrolet Malibu Eco: 111 days
2014 Jaguar F-Type S: 109 days
2014 Acura RLX: 107 days
2014 GMC Sierra 2500 HD: 104 days
2014 Infiniti Q60: 103 days
2014 Chevrolet Silverado 2500 HD: 99 days
2014 Mitsubishi Outlander: 97 days
Cars.com Picks
2014 Nissan Pathfinder: 70 days
2014 Cadillac ATS: 82 days
2014 Scion tC: 83 days
2014 Fiat 500L: 85 days
2014 Toyota Yaris two-door: 86 days
About the Lists: The Fastest- and Slowest-Selling Cars list reports the average number of days it takes to sell models from the day they arrive on the lot until the final paperwork is signed by a buyer. This is not a days-of-inventory list like you may find on other websites. With lots mostly clear of 2013 models, we look exclusively at 2014s now. We call the fastest-sellers Movers and the slowest ones Losers.
For Movers, we only list vehicles that pass a certain threshold of sales in order to weed out limited editions, ultra-high-performance cars and others that might skew the numbers or otherwise inaccurately portray popularity. To highlight all slow sellers, losers have no such threshold.
Our Picks highlight cars that take a significant time before they're sold and might be overlooked by shoppers. Dealers could be more motivated to sell these cars.