Nissan Announces Pricing for 2014 Juke NISMO RS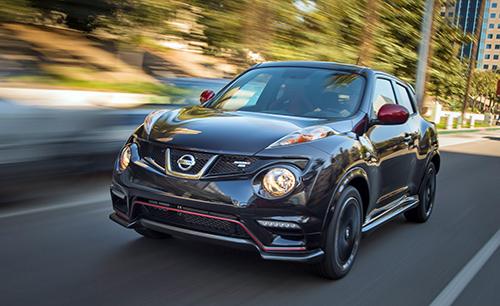 So you're already in the controversial elite who think the unconventional, amphibianlike looks of the Nissan Juke are awesome, but for whom the existing track-ready NISMO version just isn't track-ready enough? Then you'll be pleased to know that the 2014 Juke NISMO RS — the third addition to the compact crossover's model lineup, which we first saw at the 2013 Los Angeles Auto Show — has arrived in dealerships nationwide. This more-is-more, racing-themed model from the Japanese automaker's performance group starts at $26,930, including an $810 destination charge.
2014 Nissan Juke NISMO RS at the 2013 L.A. Auto Show
Nissan says the Juke NISMO RS "combines sporty design with enhanced performance," including an output of 215 horsepower and 211 pounds-feet of torque from its turbocharged 1.6-liter four-cylinder; the engine is mated to either a six-speed manual transmission (with front-wheel drive) or a continuously variable automatic (with all-wheel drive). Rally-sport upgrades also include additional structural rigidity and larger brakes. Inside the cabin, NISMO RS continues the racing theme with Recaro front seats, faux carbon-fiber finishers and a special red-and-black color theme with suede, Alcantara and leather appointments.
The new model comes in two trim levels, the RS 6MT front-wheel-drive version and RS Xtronic all-wheel-drive version. Those trims start at $26,930 and $28,930, respectively, including destination. They join nine other Juke trim levels, listed below, followed by starting price with destination:
Juke S Xtronic with front-wheel drive, $19,800
SV MT with front-wheel drive, $21,800
SV Xtronic FWD, $22,850
NISMO MT FWD, $23,800
SL Xtronic FWD, $25,100
S Xtronic AWD, $21,800
SV Xtronic AWD, $24,550
NISMO Xtronic AWD, $26,100
SL Xtronic AWD, $26,800
Manufacturer image