Survey: Motorists Apprehensive About Driverless Cars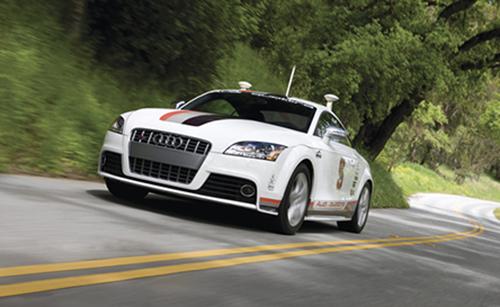 If the thought of getting in your car and being chauffeured around by a computer makes you feel vulnerable, unsafe or otherwise powerless over your fate on the freeway, you're not alone — not by a longshot. According to a Harris Poll, an overwhelming 88 percent of motorists reported that they would be worried about riding in a driverless, or autonomous, car. The study surveyed 2,039 adults age 18 or older and found that drivers were apprehensive over a variety of potential mishaps resulting from relinquishing control to a machine.
NHTSA Maps Strategies for Driverless-Car Safety
More than three-quarters of U.S. adults worry that equipment — such as braking software or warning sensors alerting the driver to danger — in a driverless car will fail. "Only 12 percent said they would not be worried about riding in a driverless car," researchers stated. Other concerns, followed by the percentage of respondents reporting so, include:
Liability issues, such as who would be responsible if a driverless car were involved in an accident (59 percent).
Hackers breaching the automated system and seizing control of the vehicle (37 percent).
Auto companies, insurers, advertisers and governments collecting personal data such as where the car goes and how fast it's moving (37 percent).
The time when such concerns become relevant is not as remote as it may seem. Some of the several automakers developing driverless cars have vowed to start selling the vehicles by decade's end, while the age of the so-called connected car already is upon us, with cars sharing individuals' data with third-party companies in order to receive accurate turn-by-turn directions and real-time traffic info. Just this week, the Department of Transportation announced that technology enabling vehicles to "talk" to each other, as would be the case with autonomous cars, could become a government mandate to reduce accidents.
Discourse already is under way on several fronts addressing the top concerns listed in the Harris Poll. Just last month, roadside-service giant AAA unveiled its Consumer Rights for Car Data — outlining broad standards for what data is collected and how it's used, as well as reasonable security measures — and urged companies to adopt it. Meanwhile, the National Highway Traffic Safety Administration in May began a multiyear study that is expected to deliver an array of safety standards for driverless cars. Moreover, California's Cisco Systems and Germany's Continental AG last year unveiled a connected-car concept ostensibly promising a superior version of what existing in-car internet already enables, including improved security against hackers, prevention of signal loss from network to network and stronger connectivity.