The Cars That Beat This Winter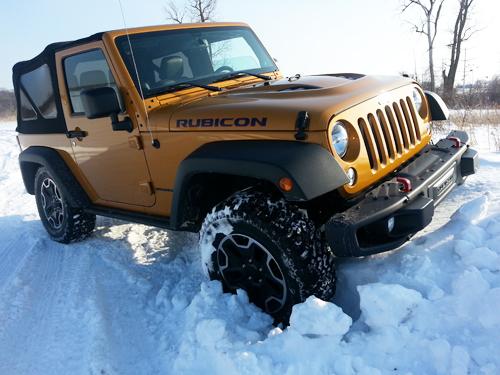 If it seems like we're covering the winter weather all the time that's because there hasn't been much of a break in the snow and cold to write anything else. Luckily, we've been able to pilot some true foul-weather standouts in our test fleet in Chicago and Detroit this season.
If we ranked these by least surprising, the 2014 Jeep Wrangler would likely take the crown. The bright orange Rubicon Edition came into our fleet recently and had Road Test Editor Joe Bruzek crying, "Where have you been all winter?!" Its off-road chops are undeniable, but Bruzek added, "The manual transmission makes the Rubicon every bit as fun to drive on the street as it is terrorizing unplowed snow-covered paths."
The most surprising winter warrior probably belongs to Buick's all-wheel-drive Regal. "I was plowed into a parking spot and was able to climb over a pretty significant ridge of packed snow and ice to make my way out," said Jennifer Geiger, assistant managing editor. "Many drivers on the same street were stuck."
Bruzek was also impressed with the Regal's snow-clearing ability. "I cleared one of Chicago's infamous snowplow ridges that traps countless cars within the city limits. The Regal didn't hiccup once and clawed out over the ridge of the snow embankment."
With great amounts of snow eventually come great amounts of slush, and in early January, we had one of these Noah's ark moments in Chicago. Luckily, Managing Editor David Thomas was in a 2014 Chrysler 300C with all-wheel drive. "The roads were awash in cold, slushy water, but the 300C was a beast," he said. "My commute had to be rerouted from a paralyzed highway to surface streets, traversing roughly 25 miles of mostly potholed roads. After two hours of not nearly as white-knuckled driving as it should have been, I was convinced the car was a keeper."
Executive Editor Joe Wiesenfelder wasn't as impressed with Chrysler's all-wheel-drive system, but he still found plenty to like in the bitter temps. "I had no idea anything was extreme outside. With the climate control on Auto, it kept the windshield and side windows clear without blasting air conspicuously or creating a draft."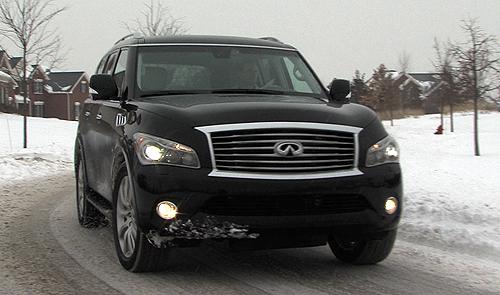 We compared the Infiniti QX80 to a beluga whale when it was called the QX56, but we didn't know how well it liked the cold. "The QX80 felt like a tank on the highway in a few inches of snow, and it was able to power through anything that winter threw at it, said Geiger who drove the Infiniti through the worst of the polar vortex.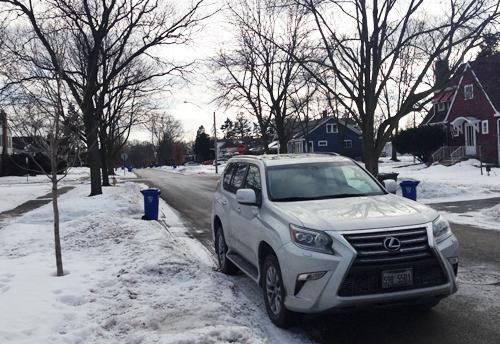 Another large luxury SUV won Senior Editor Mike Hanley over. "The Chicago region was digging out from more than a foot of snow when I tested the Lexus GX 460, but with 8.1 inches of ground clearance and standard full-time four-wheel drive, driving around on unplowed side streets and alleys was a non-issue. The GX just plowed ahead and made its own path."
We started this list with a Jeep, so why not finish with another one. The 2014 Jeep Grand Cherokee Limited 4x4 with an EcoDiesel engine was scrutinized mostly for its new powertrain, but the brand's well-known capability shined through for Bruzek again. "The 6 to 7 inches of fresh snow on the ground hardly impacted the Grand Cherokee," he said. The test vehicle had an adjustable ride height that Bruzek said was "completely overkill, even on unplowed streets. I still drove around with the suspension jacked up. It just looked really cool."
Cars.com photos by Matt Avery, Joe Bruzek, Evan Sears and David Thomas.